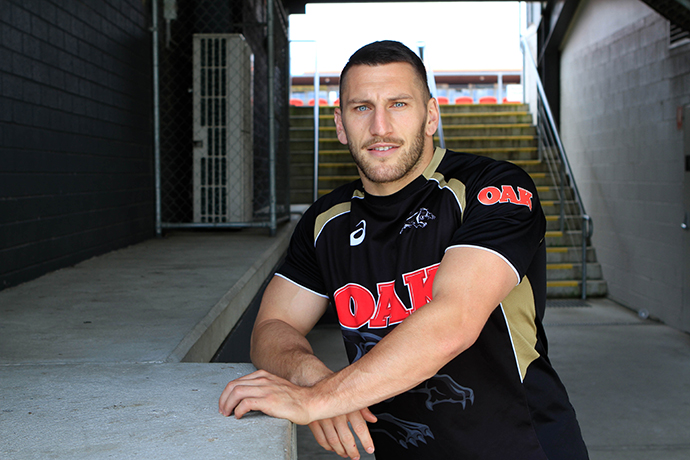 Lewis Brown had a career-best year for the Panthers in 2014, and he's hoping for an even bigger season in 2015 as he plays for his future.

The 28-year-old New Zealand international was one of Ivan Cleary's first recruits to join the re-building Panthers back in 2013, but his time at the foot of the Mountains may be up at season's end, if he can't earn himself a new contract.
Speaking with the Weekender, Brown said he hoped to remain at the Panthers for another stint past this season but admitted he wouldn't be against moving on if his time was up.
"At the end of the day you've just got to do what you can do for the side and if you're performing well, everything will take care of itself," he said.
"Back three or four years ago, when I was last off-contract, things were stressful because as a young kid you don't know how to handle it.
"If I can train well, keep fit and do my job for the Panthers then hopefully I can stay here a bit longer. If not, hopefully there's another opportunity."
The Weekender understands Brown is seeking a long term deal to remain with the club along with a significant pay rise, but with the Panthers focused on keeping their juniors and rising talents happy, Brown's future looks cloudy.
"It would be nice to sort things (new deal) out early but, at the end of the day, that's what I pay my manager to do and he's starting to sort that stuff out. That's why I pay him and I play rugby league," Brown said.
"I'm not thinking about it too much though, I need to make sure I get fit first then bring some experience and confidence back from the Four Nations and start off where I left off last year."
Brown was dynamite when he came off the bench for the Panthers last season, and he was equally as good during New Zealand's undefeated run at November's Four Nations tournament.
The former Warrior said it was one of his best experiences ever as part of the Kiwis squad.
"It's always a pleasure to put on the Kiwi jumper and it's been a dream of mine ever since I was a kid," Brown said.
"We had a great atmosphere within the camp, and just like at Penrith last year, we all had fun when we played footy and enjoyed being out there.
"To come away with the result and beat the Aussies twice, including in the final, was a big thing for us and made the tournament so much better."