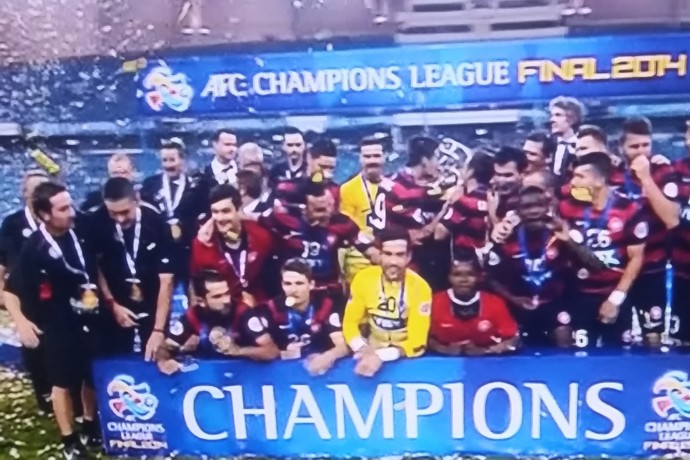 The Western Sydney Wanderers are the champions of Asia.

Against all odds and expectations, the Wanderers have held Saudi powerhouse Al-Hilal to a 0-0 draw in the second leg of the AFC Champions League Final this morning.
After winning the first leg 1-0 last weekend, the Wanderers have done enough to emerge victorious and collect their biggest ever piece of silverware.
More than 5,000 fans who had gathered a live site in Parramatta erupted when the full-time whistle finally blew after an excruciating six minutes of injury time.
"It's all sinking in at the moment – I'm obviously very proud of the players, I think it'll sink in once we get out of this stadium," Wanderers coach Tony Popovic said after the match.
"It's an amazing achievement for the players, this club and Australian football."
The game was not without controversy – Al-Hilal should have been awarded two penalties, possibly three, and there was some awful scenes in the minutes following the game when tensions overflowed – but it mattered little to the Wanderers, who continue to revive football in Australia almost single-handedly.
The match was highlighted by another incredible performance from keeper Ante Covic – who produced a number of incredible saves, including a beauty in the final minutes when Al-Hilal was building immense pressure.
Covic was named MVP of the tournament at the post-match presentation.
Wild celebrations are expected at Sydney Airport when the Wanderers return from Saudi Arabia – most likely late on Monday evening.