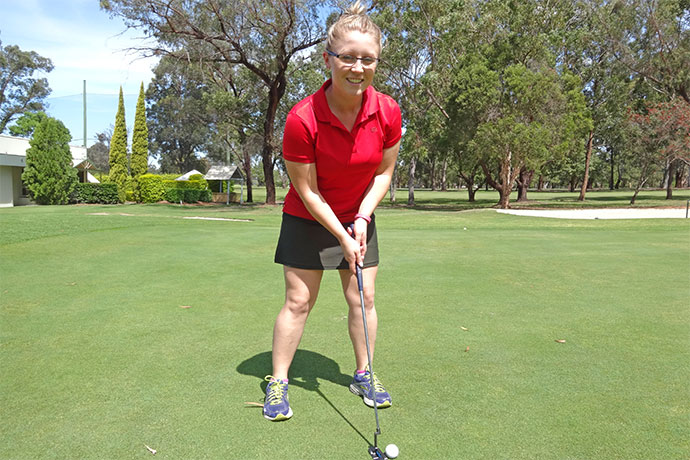 Mulgoa resident Jordana Keaton picked up her first set of junior golf clubs when she was just eight-years-old and began playing in 18-hole competitions when she was 10.

Now, some 13 years later, 21-year-old Keaton has a different set of golf clubs but that same burning passion for the sport as when she first started. She is now on the verge of turning that very passion into a full-time profession.
Contrary to popular belief, many golfers who want to become professionals and start earning money on the lucrative pro circuit have to undertake and complete a three-year PGA Traineeship Program.
For the past three years, Keaton has been doing just that where, on a weekly basis, she has to study, work full-time and play golf under an average in order to graduate as a professional.
"Some people think, in order to become a professional, you just have to play golf but there is way more to it," Keaton told the Weekender.
"I play a tournament every Monday, I work 38 hours over four days at Leonay Golf Club, study and I conduct my own lessons with men, women and juniors.
"I could've just turned pro like some golfers do but I wouldn't have any qualifications by the end of it. Soon I'll have a sports diploma, business diploma, coaching diploma, and will have the option to teach, run a golf shop or play for a living."
Despite the gruelling and demanding workload, Keaton said she wouldn't have it any other way and is looking forward to graduating on December 31 so she can finally put her talents to the test on the pro circuit.
"I am going to try the ladies events next year for experience and exposure. I'm not looking to get much out of it to begin with but in the future, definitely," she said.
"If it doesn't work out, teaching is my back-up plan."
What the future holds for Keaton remains to be seen but if her attitude and determination is anything to go by, we'll be seeing a lot more of this young local talent for many years to come.
"My aim is to make the Australian Open in February where I'll be up against the big names of the sport like Karrie Webb," Keaton said.