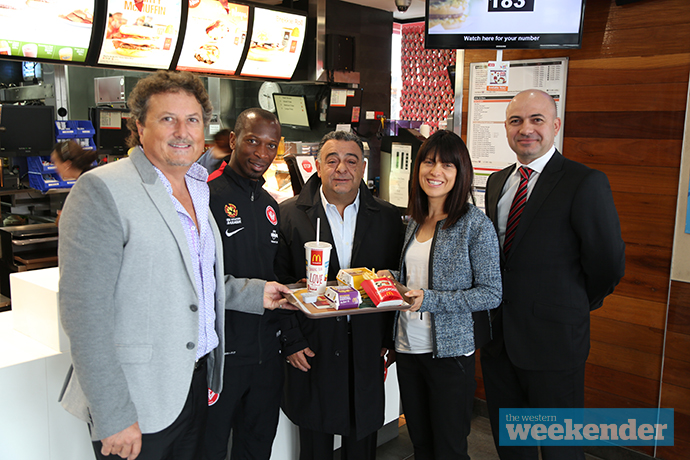 Western Sydney Wanderers and McDonald's have today announced a partnership and launched the Wanderers Meal going on sale across McDonald's Western Sydney stores from today.

The initial one-year agreement brings together the Wanderers and 21 McDonald's licensees representing the 88 locally-owned stores and corporate-owned store across Western Sydney to create a genuine partnership platform.
The partnership will include a number of co-branded promotions to add value to the Wanderers strong membership base and the wider Western Sydney community.
Commencing with a Wanderers Meal promotion launched today, any fan can purchase a Wanderers Meal at any of the 88 participating Western Sydney McDonald's Restaurants, email their receipt and go into the draw for a Wanderers 2014/15 jersey from each participating store.
The partnership will also see the Wanderers form a closer working relationship with Ronald McDonald House in Westmead including supporting McHappy Day on Saturday, October 18.
Wanderers CEO John Tsatsimas welcomed the partnership as the first step in a long and positive relationship.
"This agreement extends our strong corporate family with another iconic brand joining an already outstanding group of partners," said Tsatsimas.
"A partnership with McDonald's creates a platform across Western Sydney that will highlight our grassroots and community footprint and create great benefits for the region as we grow this relationship. With McDonald's and Ronald McDonald House Westmead we aim to build on our strong presence across the region.
"We see this as the beginning of a long and collaborative association between two Western Sydney organisations."
McDonald's Cambridge Gardens, St Marys North and North Penrith Licensee, Frank Meduri, is a keen Wanderers fan and played a key role in initiating discussions with the football club having seen how much support clubs need, no matter how big or small.
"As a McDonald's Licensee, I have been involved with many local sporting clubs and see the benefits firsthand of our support," he said.
"My family and I are big Wanderers fans, so I am thrilled to be announcing that McDonald's restaurants across Western Sydney will be partnering with the Wanderers to enhance the fan experience at each of the home games. Our partnership with the Club is another great way in which we are proud to be giving back to the community."
The Wanderers Meal (Quarter Pounder, Large Fries, Large Coke, six McNuggets and sauce) for $9.95 for a limited time across 88 participating stores in Western Sydney.