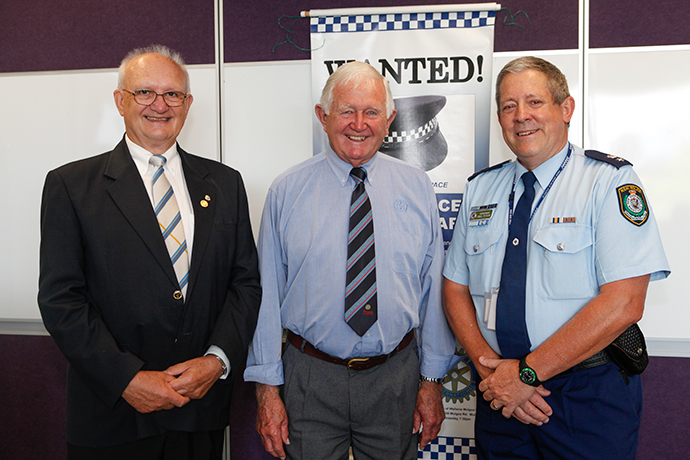 The nomination period for next year's St Marys Local Area Command (LAC) Police Office of the Year awards began this week.

Organised by St Marys and Wallacia/Mulgoa Valley Rotary Clubs, the awards are the only occasion where officers are recognised for putting their time and effort into protecting the local community.
It offers an opportunity for officers to encourage each other and for the community to thank those who have made an impact in their lives.
St Marys Local Area Commander, Superintendent Greg Peters said that the event is anticipated by St Marys LAC officers each year.
"Police do this day in and day out, unrecognised for their work. Today is the beginning of a period where we can recognise the staff – I thank in advance everyone who puts in a nomination – and recognise the hard work that the officers do here, day in day out, 24 hours a day, seven days a week," he said at the event launch on Tuesday, October 7.
Local residents are, for the sixth year, being encouraged to nominate local police officers who have shown outstanding bravery, skill or compassion in the field for the Community Award.
Simultaneously, St Marys police officers will be nominating their own colleagues for the Peer Award.
"The awards in their sixth year really do showcase what police women and police men do day in and day out as part of their role and their duty. It allows us as a society, as a community, to get to know a little bit about their work and the endeavours that they go through and the trials and tribulations that they do meet," said Penrith City Mayor, Ross Fowler.
"There is no doubt that being a police officer is a very trying and dangerous occupation and I think it is very important that as a community we recognise the efforts that they go to."
Last year's St Marys Police Officers of the Year were Constable Daniel Peen and Constable Daniel Hadley.
The award night is to be held on April 15, 2015.