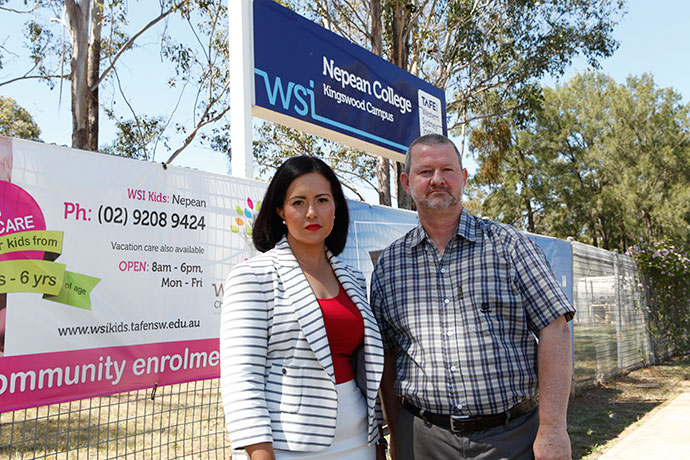 Penrith Councillors from all sides of the political spectrum are proud of their TAFE educations and weren't afraid to stand up against rising course fees in a fierce debate on Monday evening.

Cr Prue Car had called for a report on the impact of rising TAFE fees on Council's ability to attract trainees, but found the report to be lacking in detail.
"People talk about TAFE as a second chance education but it's much more than that," she said.
"And what's happening at TAFE is an enormous increase in fees… people are being priced out of an education," she said.
Fellow Labor Cr John Thain said he valued his TAFE education greatly and thought that the fee increases would impact Council employees across many disciplines, from landscaping through to childcare.
"This issue is personal to me because I am a product of TAFE and I despair for people who will go to TAFE who will have to pay these fees," he said.
The NSW Opposition estimate that 40 per cent of students are set to pay between $500 and $1,500 extra for courses when the price rises come into effect on January 1, 2015.
Liberal Cr Marcus Cornish also declared his support for lower education fees.
"I went through TAFE also and whilst I think people should pay something, these prices are too high. I could not have made something of myself if it was costing that much when I was studying," he said.
Independent Cr Maurice Girotto said that he cannot see why courses should cost so much.
"I too am a product of TAFE. I find this [policy] absolutely disgusting – these children are just trying to learn. This will impact our supply of skilled employees definitely," he said.
Cr Michelle Tormey is currently studying at TAFE and said it is not fair that the concession fee has been doubled from $52 to $106.
"I know that doesn't seem like much but it does make a difference," she said.
Cr Bernard Bratusa defended the NSW Government's TAFE policy.
"It's designed to cut courses that won't return an investment for tax payers, like dog grooming," he said.
Last week it was announced TAFE had been awarded tenders to deliver government subsidised training under Smart and Skilled from January 1, 2015.
"TAFE NSW Institutes welcome the outcomes of the successful Smart and Skilled tender applications," a TAFE spokesperson said.
"TAFE NSW will continue to offer generous concessions and exemptions for eligible students. Additionally, TAFE NSW students won't be required to pay the entire qualification fee up front.
"There will be flexible payment options, including payments by semester, as well as access to VET FEE-HELP loans for eligible qualifications."