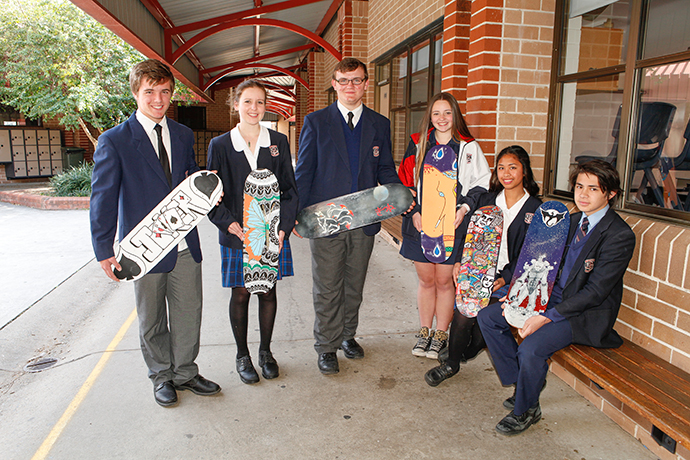 McCarthy Catholic College students had a lesson in street art recently, which saw them condemn illegal graffiti in favour of creative expression that can be appreciated by the wider community.

Year 9 and 10 visual arts students took part in the semester-long program 'Kick Flip', where students studied street art, street artists and created their own street art-style design that they transferred to skateboards.
Students were given free reign to create their own work of art using a number of different techniques and materials, including spray paint, free brushwork, stencilling, collage, image transfer and drawing.
"I loved designing my skateboard, creating colour and originality and being expressive. And we look really 'flash' when we skate," said Year 9 student Natalie Laserna.
According to Year 9 Innovative Visual Arts teacher, Debbie Koziol-Grima, the project is an important one as it teaches the students, who may be at an age where they would consider taking part in illegal graffiti acts, productive ways to use street art talent.
"In term one we had Council come out and speak to the students about graffiti, street art and their differences. They talked about the negative impacts of graffiti and its costs to society," she said.
"It enforced the idea of the issue of graffiti in our students and how different it is to street art."