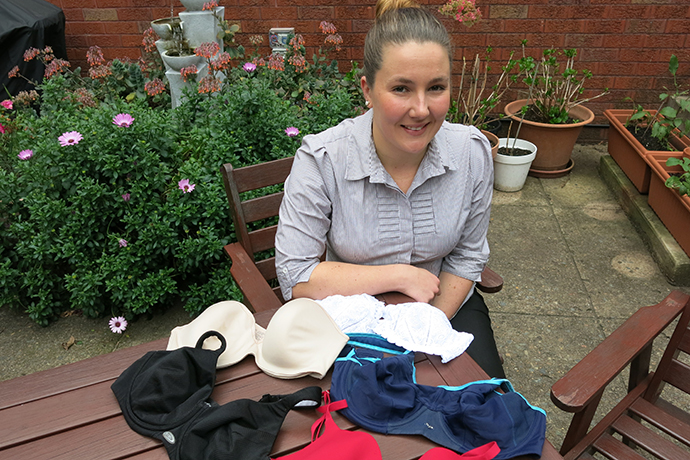 Local women have the opportunity to be part of a study that could improve the lives and the comfort of women forever.

When women put on a bra, they are instantly sacrificing their comfort and wellbeing because bra design is not up to scratch. But University of Wollongong PhD student, Celeste Coltman, is hoping that her research can change that.
She is calling on local women to be involved in her study of breast health biomechanics, where she is examining the breast characteristics of women and how they are influenced by age and Body Mass Index to better inform bra design, bra fit and breast support.
"The reason why this is important is because 85 per cent of women wear the wrong fitting bra and the consequences of incorrect bra fit are vast," she said.
"Not only is it uncomfortable, but it can lead to musculoskeletal pains, changes in posture and decrease in exercise participation, so it is clear that design improvements need to be made so that more women are wearing and exercising in correct fitting breast support.
"So many women can not find a bra that is supportive enough to exercise in, so they don't. That is more an issue for large-breasted women but I have found that small-breasted women are largely dissatisfied with the way their bras fit as well," she said.
Ms Coltman is completing her research with Breast Research Australia, where they have been conducting breast health research for 15 years, focusing on injury prevention and enabling increased exercise participation.
She has been testing since May and has already had over 200 women take part but is hoping that by visiting Penrith, she can reach her goal of having 500 women involved.
She will be working out of Penrith Women's Health Centre for the two weeks from Monday, September 22, where she hopes to take the measurements of local women of all ages, take a 3D scan of their body and educate them on how to fit their own bra.
"It is very easy, non-strenuous and non-invasive. Women could easily take part in a break at work – it takes under an hour," Ms Coltman said.
"I am hoping that women in Penrith will want to be involved to aid research that is going to seek to make improvements to bra design, which will help them and other women and also to get correctly fitted in their own bra size and get taught how to correctly fit their own bra so that when they go to the shops they can use those strategies.
"They also get educational resources related to education and breast support."
To get involved, contact Ms Coltman via email at [email protected] or by phone on 4221 4480 or 0432 510 431.
For more information about Breast Research Australia, visit bra.edu.au.