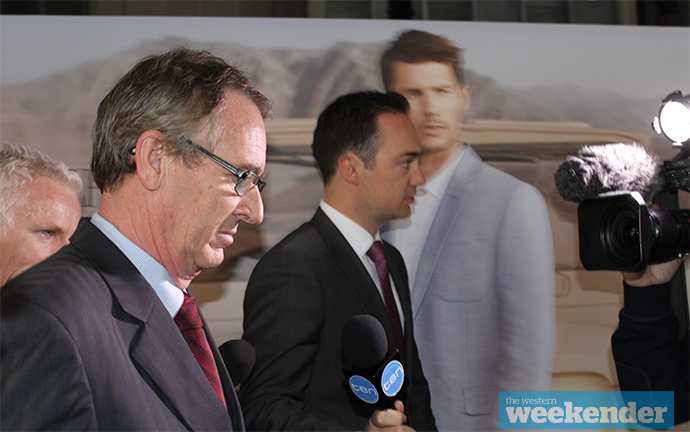 Londonderry MP Bart Bassett has denied any knowledge of how his 2011 election campaign was funded during two damaging days in front of the Independent Commission Against Corruption (ICAC).

Mr Bassett is being investigated after evidence presented in ICAC's Operation Spicer hearings last week suggested that developer Buildev made an illegal donation to Mr Bassett's campaign to cement his support for their projects in the Hawkesbury region. At the time of the alleged donation, Mr Bassett was Mayor of Hawkesbury.
Faced with the brutal questioning of Senior Counsel assisting ICAC Geoffrey Watson SC on Tuesday evening and Wednesday morning, Mr Bassett was defensive when questioned about his history with company Buildev.
Mr Bassett admitted that he knew Mark Regent, an executive at Buildev.
"I wouldn't call it a close relationship, I would call it a working relationship with Mark Regent," he said.
In 2006 Mr Regent wrote an email to fellow Buildev executive Darren Williams saying that: "We need to pay a donation to Bart Bassett, Liberal candidate in Hawkesbury (Mayor)".
On one occasion Buildev executives landed a helicopter at Mr Bassett's residence to have a private meeting with him. Mr Regent also invited Mr Bassett to an AFL match between the Sydney Swans and Geelong on Saturday, August 16, 2008.
Two months later, a donation was made by Buildev to the Liberal Party.
The donation, worth $23,500, was not illegal as the ban on developer donations was not enforced until December 2009.
Nonetheless Mr Bassett denied any knowledge of the donation.
A Development Application by Buildev for seniors accommodation at North Richmond was received by Hawkesbury Council on November 20, 2008 and Mr Bassett used his casting vote as Mayor to pass the controversial development in 2009.
In 2009 Mr Bassett also voted in favour of removing restrictions on the western side of the Hawkesbury River that stopped any land from potentially being rezoned for development.
Buildev was a key landowner at the time and ICAC heard how Buildev executives had on one occasion visited Mr Bassett at his personal residence after taking a private helicopter there to discuss options for the site.
But the alleged illegal donation was not made until December 2010.
Mr Watson suggested that by November 2010, the Londonderry campaign needed further funding to buy a 'key seat package' to help the campaign along, worth $35,000, but that the campaign account only had $18,000 at the time.
The Free Enterprise Foundation donated $18,000 in December 2010 to the Londonderry campaign via the Liberal Party Head Office.
The Free Enterprise Foundation cheque allegedly originated from company Boardwalk Resources, owned by Newcastle heavyweight Nathan Tinkler, who is also a shareholder of Buildev.
Mr Watson said that the Boardwalk Resources cheque was given to the office of disgraced Liberal MP Chris Hartcher, and was then forwarded to the Free Enterprise Foundation to re-donate to the Londonderry campaign.
"Where did you think the money was coming from which allowed you to buy the key seats package," Mr Watson asked.
In reply Mr Bassett said: "From people who said over the years they were going to contact head office and make a donation… I couldn't name them".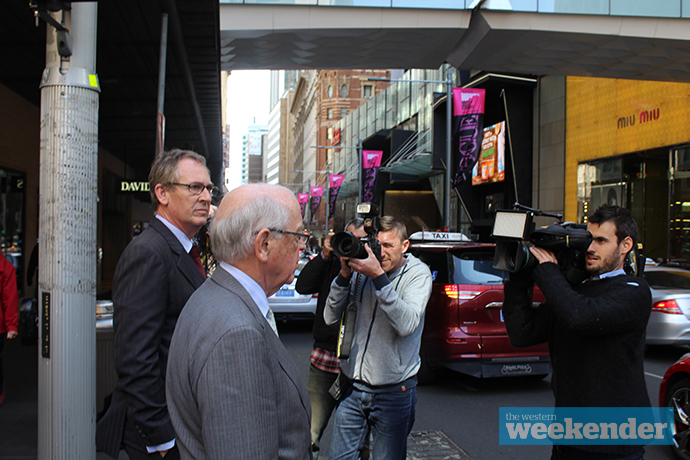 Mr Bassett said he knew nothing of the $18,000 donation, of the Free Enterprise Foundation or of how the key seats package was funded.
"Is it just coincidence that the exact amount of money is transferred so a key seats package can be purchased? See right at the time Boardwalk Resources are writing that inexplicable cheque to the Free Enterprise Foundation, right at that time you were in contact with Chris Hartcher," Mr Watson said.
Phone records presented to ICAC showed that there were a number of conversations and exchanges between Buildev executives, Chris Hartcher and fellow Liberal MP Mike Gallacher, on December 10, 2010, ending with an SMS from Mr Hartcher to Mr Bassett.
"I couldn't recall what the SMS was about," Mr Bassett said.
"You knew the money was coming, didn't you," Mr Watson said as Mr Bassett shook his head in denial.
The crux of the evidence was an email sent by the Liberal Party Head Office on December 16, 2010 that detailed the account balance of the Londonderry campaign, including the Free Enterprise Foundation cheque amount of $18,000, before the cheque had even been received.
Of his decisions at Hawkesbury Council, Mr Bassett said he was never influenced by Buildev.
"I never ever, ever voted contrary to staff recommendations on a DA or zoning application," he said.
He said that Liberal Party Head Office, "was very clear" that candidates should not be involved with campaign donations and so he kept himself "at arm's length".
Mr Bassett said that it was likely the conversations with Mr Hartcher in December 2010 were to do with his personal health and a media opportunity in St Marys on the proliferation of illegal brothels.
"I was very concerned about my medical issue, about my future career if something bad happened… Chris was one of only a handful of people I discussed this with as he had known me for many, many years, a couple of decades," Mr Bassett said.
Mr Hartcher also gave evidence on Tuesday and denied any involvement with the $18,000 cheque.
"I was not aware that [the cheque] had come from my office," he said.
On Wednesday afternoon, Mr Regent also fronted ICAC and gave evidence that Mr Bassett had approached him for election funding between 2007 and 2010.