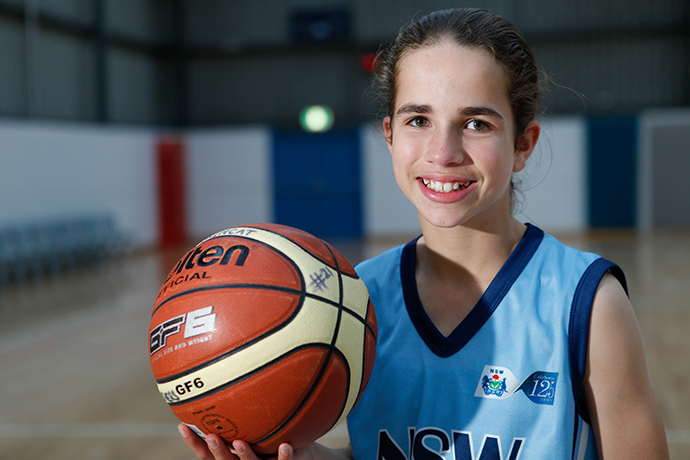 Her ultimate dream of playing in an Olympics may be a little ways off, but if her recent performances are anything to go by, there's no telling what she could do.

At just 11-years-old, Alison Brincat is one of the top junior basketballers in New South Wales.
The St Clair local recently returned from the Australian Primary Schools Basketball Championships in Townsville with gold around her neck after her NSW side broke a 22-year title drought in the U12's division.
The amazing feat was made even more remarkable after her young side went through the entire eight game tournament undefeated.
Alison, who's only been playing basketball for four years, said her experience in Townsville is one she'll certainly never forget.
"I really enjoyed playing different teams from around the country and getting to know the girls," she said.
"One of the big highlights for me was pin swapping which is where each state handed out pins to one another as a little memento from each team. I collected seven pins in total."
While the Year 6 Mamre Anglican School student is performing well beyond her years on the national scene, she's also doing the same locally.
Alison's talent is so far and beyond other kids her own age that she recently played for Penrith's U14 Division 1 team alongside players some three years older than her.
"I was the only primary school student in my team this year," Alison said.
But while she has plenty of natural talent, Alison admits her success on the basketball court also comes via hard work.
"I train every night in the backyard, and sometimes my older brother trains with me," she said.
Alison's ultimate goal is to one day represent Australia in a major international tournament just like her idols: Olympic silver medallist Lauren Jackson and fellow local basketball sensation Tahlia Tupaea.
In the meantime, Alison's content with doing what she's doing by continuing to improve her game as point guard and achieving great things both on and off the court.
Just remember her name, you'll be hearing plenty of it.