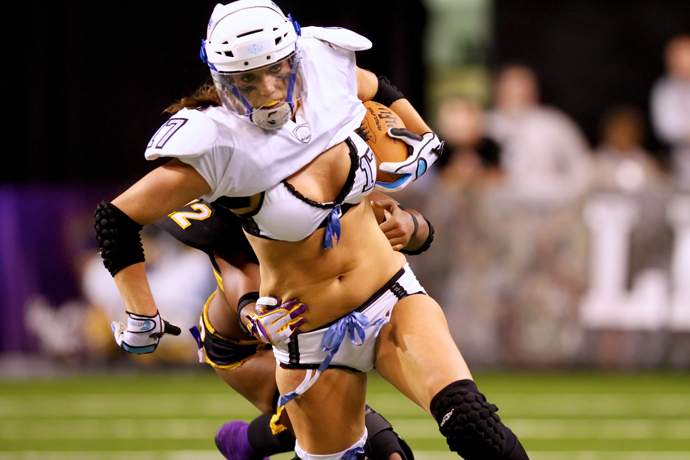 It's said to be one of the most popular and fastest growing sports in the world. Legends Football League, formerly Lingerie Football League, landed in Penrith last summer amidst plenty of fanfare as well as controversy.

The NSW Surge, who went on to win the inaugural competition, called Penrith Stadium home for two games last December.
Fans turned out in their thousands to cheer on the girls in a sport they knew very little about – you could say they embraced it for what it was.
However, fans will be shocked to learn that the LFL and NSW Surge have decided not to return to Penrith this year but instead will play three home matches out of Pirtek Stadium in Parramatta.
Speaking exclusively with the Weekender, Founder and Chairman of LFL Global, Mitchell Mortaza, said the switch to Parramatta was purely a business decision, not a personal one.
"While Penrith offered a great first season stadium for the Legends Cup champion, NSW Surge, our goal was to better our proximity to Sydney CBD," he said.
"Parramatta offers us not only a great stadium with an ideal location, being central to most of Sydney and its suburbs, but also a legendary stadium within the Australian sporting culture.
"We are excited to be sharing the same home ground as premier sporting clubs such as the Parramatta Eels, Western Sydney Wanderers and Greater Sydney Rams."
When the LFL announced Penrith as the home of the NSW Surge back in October last year, the announcement caused plenty of controversy among the female community.
While most of the males of Penrith welcomed it on board, many of the female population weren't as convinced and ticket sales suffered.
Mr Mortaza said poor ticket sales or issues with hiring Sportingbet Stadium weren't factors in the decision to move to Parramatta.
"It was not that Penrith was not a great stadium for the NSW Surge, it was simply that Pirtek Stadium provided a better opportunity to establish the NSW Surge as a prominent sporting club due to its location, built-in audience and personnel," he said.
"We would welcome and encourage our Penrith-based Surge fans to make the trip to Parramatta and root for your Legends Cup champion in 2014 and 2015."