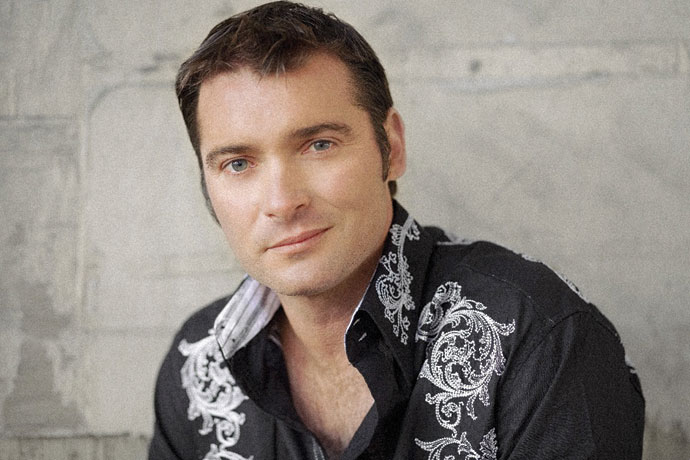 Talking to Adam Brand about his new album 'My Side of the Street' you can tell that the process of writing and recording was a particularly enjoyable one for the successful country singer.

"I went to the studio and I didn't play by any rules I just played and recorded the stuff how I wanted to and without any thoughts of record companies or commercial reasons and things like that," Brand said.
"There was no one I had to please apart from myself in the studio. So at the end of the day if you feel really happy and comfortable with what you've got then it's so much easier to go out and sing the songs .
"And I think people can see that they're getting something that's true to yourself and not just recorded for 'oh we need this type of song' or ' we have to have this'."
'My Side of the Street' – Brand's 10th studio album – showcases his new found musical freedom and sees the singer once again collaborating with producer Craig Porteils.
The 13 track album features a guest appearance by Aussie country songstress Jasmine Rae and a cover of Billy Thorpe and The Aztecs' hit song 'Most People I Know Think That I'm Crazy'.
It's an album that Brand admits has come about after years of gathering inspiration.
"When you release your first album it's your very first so you've got all your life you've lived right up until that point and everything goes into that album," he explained.
"The next album you release you've got 18 months from the last one so you've kind of got to cram it almost.
"So I guess with this album it feels like there's a lot of songs on here that I really believe in strongly and I feel like I've sort of been picking up little pieces my whole life that have all sort of ended up at the end of this path and that have got into this album.
"Now I'm not saying this is the end of my journey – I hope not anyway – but you know it kind of feels like it's been a long time coming, a lot of bits and pieces have gone into this album.
"For about three years there were songs that I sort of thought, I thought to myself, 'one day I'm going to record these when the right time comes,' so I had a bunch of those sort of songs sitting in the back pocket… and then [fast forward] to this album and it just seemed the right time for a lot of them."
The lead single from the album 'What Your Love Looks Like' is a country/rock ballad full of romantic imagery.
The video for the track was filmed at some well known Sydney locations including the beautiful Curzon Hall in Marsfield.
"It certainly was one of the most involved videos I've done," said Brand.
Though the country star admits he enjoys all aspect of being a musician, at the end of the day when it comes to a choice between writing/recording and heading out on the road – it's the latter that wins out every time.
"For a performer, being on stage singing your songs is the ultimate," he said.
"I've been off the road for the last seven months I guess you could say, so you kind of get itchy feet, you're ready to get back out there and play again."
Local audiences will have the chance to experience Brand's love of the stage – along with tracks from the new album – when the 'My Side of The Street' tour comes to Rooty Hill RSL on Saturday, September 20.
It's a place that Brand is very familiar with.
The country music star even recorded his live DVD 'Built For Speed' at the venue in 2003.
"Well Rooty Hill's just an awesome venue and I've been playing there for years so it's kind of like my home, my home gig in Sydney, and it's always a fun night," he said.
Looking back over a career that has spawned five gold, and three platinum albums, an ARIA Top 5 album, several ARIA nominations for Best Country Album, as well as 12 Golden Guitars, Brand still has a few projects that stand out in such a successful and long lived career.
"I suppose one in particular would be 'The ANZAC', then there's songs like 'Hell of a Ride', 'It's Gonna Be Ok' and 'Good Things in Life' so there's a few songs in there obviously that mark milestones, not only in my career but also in my life," he said.
"So those songs – I'm not sure if being proud of them is the right word – but just being pivotal points in my life."
Adam Brand will be performing at Rooty Hill RSL on Saturday, September 20 at 8pm. Tickets are $30-$35. To book online visit www.totalcountry.com.au or for more information call 9625 5500.