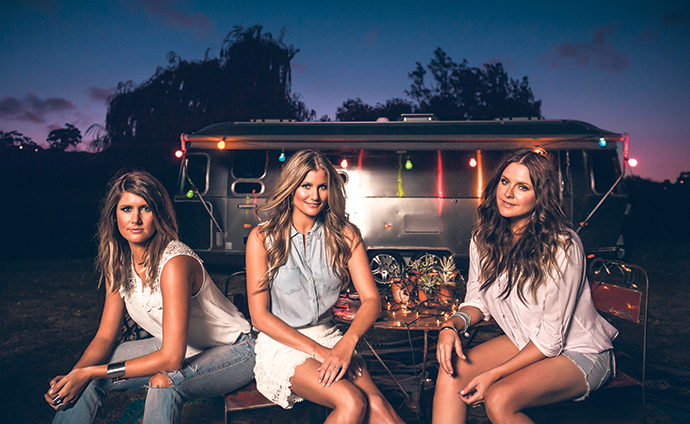 Talking to Mollie McClymont, you get a sense that things for her – and sisters Sam and Brooke who make up The McClymonts – are more balanced after the girls took a break last year. The country music trio's touring schedule has slowed down and they have a new member of the family joining them on the road; Brooke's daughter with husband and musician Adam Eckersley.

"We used to do about five gigs a week but now because of Tiggy we just do weekends, which probably makes it better for us as well because we can have a life during the week and then just on weekends go and work," Mollie said.
And it seems that the talent of her mother, father and aunties may be rubbing off on Tiggy.
"It's crazy she's so musical and she's only a year and a half. She just loves music and loves playing harmonica and she just wants to get up on stage every night, we have to say 'no Tiggy, not yet'," Mollie said.
Though things have slowed down a little in the last year the sisters have well and truly earned the change of pace after eight years of writing and touring, which has seen them awarded two ARIAs for Best Country Album with 2010's 'Wrapped Up Good' and 2012's 'Two Worlds Collide', an APRA Award and eight Golden Guitar Awards.
In July of this year the trio released their fourth album 'Here's To You and I'. Surprisingly, this is the first album that the girls have recorded in their home country.
For the release they teamed up with Aussie producer Lindsay Rimes who has worked with the likes of Lee Kernaghan, Tina Arena and Stan Walker.
The album came about after two years of writing and plenty of life experiences to draw upon, including Brooke's pregnancy and Mollie's heart-breaking relationship breakdown.
This lyrical openness has been a focus for the girls of late.
"We did find it hard in previous years, you know we never really wanted to touch on anything [personal], but I think people know what songs are real and what isn't, it's just taken us a few years to realise that. I think getting older too you don't mind, it's like, 'oh well this happens in life and let's write about it because people will be able to relate to it'," she explained.
'Here's To You and I' also sees the sisters experiment with new sounds and a mix of genres from traditional country to more pop inspired tracks.
"Growing up and getting older you mature a bit, okay, a lot maybe," Mollie laughed, "and that shows in the music".
Having been in the industry for almost a decade, The McClymonts have noticed a change in audiences' attitudes towards country music.
Thought it is a genre that is sometimes tagged with a not so positive label, the popularity of performers such as Taylor Swift, Keith Urban and Kasey Chambers has caused a shift in music listeners' thoughts on the genre.
"People can't believe that they're country because they like their music so much and I think it's just changing people's view on it, it's not hick," Mollie said.
"We talk about things that are real, and our lyrics actually have meaning that people can relate to… I think [people] have just got that stigma attached to country music but it's changing with Keith and Taylor and like I said, Kasey."
Come Saturday, August 23 The McClymonts will be bringing their music to Rooty Hill RSL and there's no doubt Mollie is itching to get out on the road.
"I love touring, I love the road. I think I've got the bug for it," she said.
"It's really nice to write as well, it gives you a bit of a break from the road but then you just get this feeling like, 'ah, I need to be out on the road, I need to be doing gigs'."
The MyClymonts will be touring up until Sam McClymont's much anticipated November wedding and then come January the sisters will be back on the road for a few months, including, of course, a stop off at the Tamworth Country Music Festival.
Regardless of the numerous accolades, it seems Mollie McClymont will be satisfied just to be able to continue to write and tour, keeping country music fans more than satisfied.
"We're so lucky that our fans have been so supportive and they allow us to tour and keep touring and I just think having a job is just amazing and it's a goal in itself."
The McClymonts will be performing at Rooty Hill RSL on Saturday, August 23 at 8pm. Tickets are $40.
For more information on the show or to make a booking call 9625 5500 or visit www.rootyhillrsl.com.au.