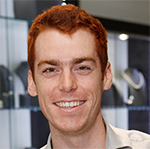 Last week I was privileged to meet with one of the best-kept secrets in the gemstone trade. This supplier had a wealth of knowledge as well as a great amount of unique gemstones with a story behind each one.

Being in the jewellery industry can generally mean one of two things; you're either working in retail and it is your 'part time' job, OR you are genuinely in love with the whole idea of creating a piece of jewellery and providing excellent customer service. We are very lucky at York Jewellers that we are surrounded by a team who truly love what they do.
Which brings me back to this supplier. His passion for his craft was infectious and gave me a refreshed appreciation for what we do and how gems come to be housed in the incredible jewellery that we see everyday at York.
It was a real experience sitting down with him and discussing the ins and outs of his travels, how he sources each gem, the cutting and refining process to bring out the best colour and fire in the stone, and the list goes on. There was history behind each and every stone, how its journey had started and how it came to be in his possession.
We spoke about a recent trip that he made overseas to source some specific gems for a retailer. On his trip he took with him some stones that had belonged to his father, as he is a second-generation merchant, much like myself. I remember being surrounded by gems and diamonds as a young lad in my dad's workshop where it all began in the Penrith mall!
These gems had been in the back of his dad's safe for many years. Technology has improved so much over the years that he was able to have these pieces re-cut to improve performance and desirability while retaining the visual size of the gem. The difference blew me away! It just goes to show that quality is just as important when it comes to semi-precious gemstones as it is with diamonds.
At York Jewellers we are privileged to be able to offer our clients the highest quality goods as we have formed solid relationships within the industry. To view a selection of gems either loose or set into fine jewellery, just make an appointment with one of our consultants. We are more than happy to help! See www.yorkjewellers.com.au.