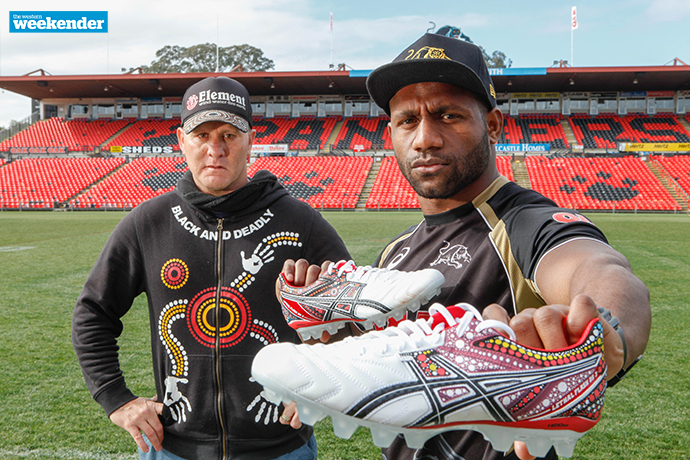 Daren Dunn is one of the best and most well-known Aboriginal artists this country has to offer.

His beautiful hand-painted designs have been worn by some of the most famous athletes in Australian sport and now it's Penrith's turn to show their pride for Australia's rich Indigenous culture.
Dunn has specially hand-designed and painted a number of unique items which will be worn by players during Penrith's 'Close The Gap' Round clash with the North Queensland Cowboys this Monday night at Sportingbet Stadium.
Along with designing Penrith's first ever Indigenous themed jersey, Dunn has also designed and hand-painted Aboriginal-inspired boots for six players including stars Jamie Soward and James Segeyaro.
Each of the pairs of boots are one-of-a-kind with Dunn spending considerable time with each player to get a better understanding of their own story and culture.
"To do a pair of boots, it takes on average two to six hours," Dunn told Extra Time.
"The most important part of the process is sitting down with the player. If they're Aboriginal they tell you their yarn and if they're not Aboriginal we get to tell them a story about Aboriginal culture.
"Jamie Soward is wearing the 'Welcome Dance' design and that symbolises walking out as an Indigenous player to celebrate as one. Segeyaro's design, being non-Aboriginal, symbolises coming into our tribe and our people."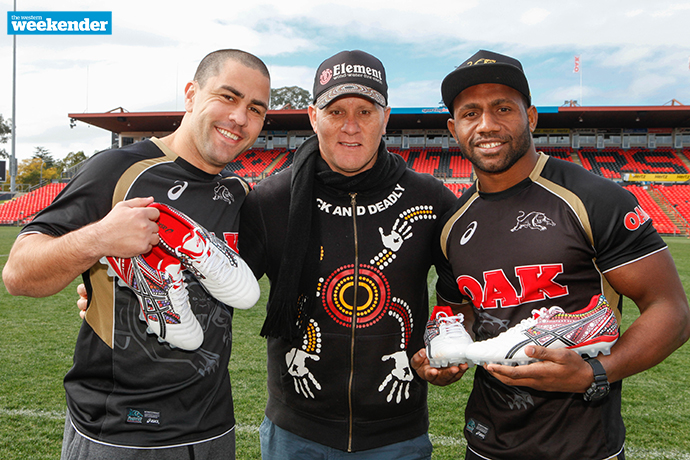 Soward will be the only Indigenous player in the Panthers' line-up to wear Dunn's hand-painted boots with the other five players of non-Aboriginal descent.
Dunn revealed it meant more to him that non-Indigenous players were embracing his culture.
"To me as an Aboriginal artist, as funny as it sounds, to see a non-Aboriginal person in your jersey or boots means more to me," he said.
"To me it's not a jersey or boots, it's about going out and being one of us and getting an understanding of our Aboriginal culture and what it's like to feel and be Aboriginal."
Dunn previously designed South Sydney's Close The Gap jumpers a number of years ago and has also hand-painted headgear to be worn by the players as well as the official game ball.
"The importance of Close The Gap is educating people. Doing something like this may be simple but it's very powerful," Dunn said.
The NRL officially launched Close The Gap Round on Tuesday.