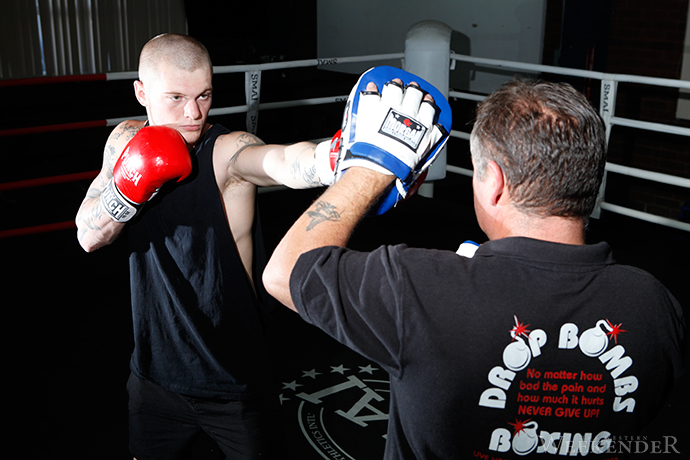 Londonderry boxer Daniel Lewis has opened up about the heartbreaking disqualification that cut short his Commonwealth Games campaign.

The 20-year-old was on the cusp of something special late last month over in Glasgow – he'd won his opening two bouts with ease and was due to meet India's Mandeep Jangra in the quarter finals of the Men's Welter (69kg) class.
However, a stray elbow to the eye by Nigeria's Kehinde Ademuyiwa in the Round of the 16 saw Lewis receive a nasty cut that would shatter his dream of taking home gold.
Speaking with the Weekender, Lewis revealed what happened in the lead-up to finding out his Glasgow journey was officially over.
"The Nigerian fighter was rather lanky and tall and the fight was getting messy as he was throwing headbutts, elbows, all sorts of things," Lewis said.
"Unfortunately I suffered a bad cut. I ended up winning the fight and had the cut glued straight after. Two days later I was meant to fight against India in the quarter finals.
"I woke up at 6am and went into the sauna to lose some weight for the weigh-in, I lost two kilos. At the weigh-in I was told I was unable to continue my journey to gold. I felt so much emotion but over the years in this sport I've learnt a lot, so I kept my cool and accepted it."
After the disqualification, per Commonwealth Games rules, Lewis was very vocal about headgear being reintroduced for amateur fighters. Had headgear been worn during Lewis' fight against Ademuyiwa, he may have returned to Australia with a medal around his neck.
"I felt I could've went on to win gold, 100 per cent without a doubt," Lewis declared.
"The headgear should 100 per cent come back, if anything bring them back and take them out in the finals where we can risk getting a cut. We fight five times a week, we can't afford a cut when we put our life into this sport."
While his time in Glasgow was full of mixed emotions, Lewis admits he enjoyed the best experience of his life and appreciated all the support he received since arriving back in the country late last week.
"The Comm Games would have to be the most memorable and proudest time of my whole boxing career. I'll never forget walking out in front of 40,000 people at the opening ceremony and hearing the crowd roar," he said.
"I keep thinking bigger and better things are to come and the fire in my belly is only growing."
Lewis will return to training soon to prepare for the World Championships next year before setting his sights on the Olympics Games in Rio in 2016, and hopefully that elusive medal.