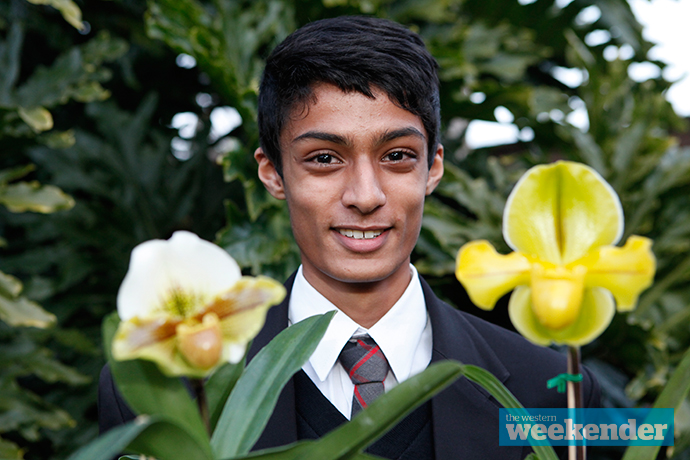 Tristan Muralitharan is a local teenager with an unlikely passion for everything orchids, a passion that he hopes to one day turn into a career.

There are few people as young as the 15-year-old Penrith Anglican College student that have a passion so deeply for a plant species but Tristan's has breathed life into the Blue Mountains and Penrith District Orchid Society.
The local student first developed an interest in orchids at 12-years-old, when he joined the society as the youngest member of an ageing community.
"I was going overseas for a music tour and I began selling orchids to fundraise. I actually started getting into breeding them and growing them seriously. I got in touch with Alan Merriman from the Orchid Society and it all stemmed from there," he said.
"I went and did a tissue culture course at Kevin Western's [an orchid growing laboratory in South Australia]. I started having a look at the actual parentage of plants and how complex and interesting they are. And as a history buff, having a look at the history of the plants got me interested as well."
Tristan was awarded the Junior Championship at the Orchid Society's recent Winter Show, scooping up seven first place awards and five second place prizes.
Alan Merriman, patron of the local Orchid Society, has been mentoring Tristan, teaching him everything there is to know about cultivating the beautiful species.
"It is great to see a younger person taking interest in something instead of that black box [television]. Tristan is so keen. It is great in the fact that I know that I am passing on what I know because when I go to heaven there are not many people who will be able to carry all this information on," Mr Merriman said.
"You get some [young people] that will come along to a meeting but only because their parents drag them along. We try very hard to teach them – sometimes they come to us to learn – but they usually flit off to their computers."
After years working with orchids, having made a living from cultivating and exporting them, Mr Merriman is able to put Tristan in touch with orchid growers around the globe.
"Little Tristan, he's going to be a great orchid grower as time goes on," he said.
"It would be great to have some younger people join the society. The community is ageing."
Tristan is currently learning the ins-and-outs of orchid parentage and is passionate about pursuing a career in orchid conservation after he completes his schooling.
"There are some species that are really doing it tough, some hardly even exist in the wild anymore. I want to stop that and raise awareness as well," he said.
"I want to help put some of them back into the wild."
He has over 600 of his own plants.
To fuel his passion for the species, Tristan attends free lessons with a group of other enthusiasts who are taught by Mr Merriman on a weekly basis.
In addition to this, he meets with the Orchid Society on a monthly basis.
Visit www.bmpdos.org.au for information about the local society and its regular meetings.