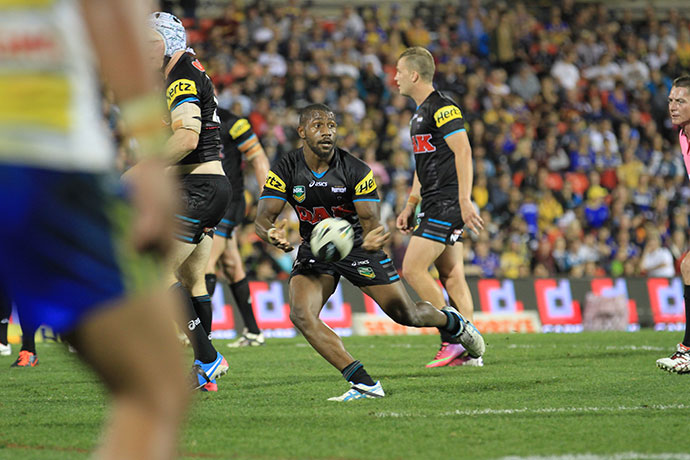 The Panthers will have to pack some extra winter gear this weekend as they head west to Bathurst for the first game of a five year partnership with the NSW country town.

The Panthers set off for Bathurst on Wednesday in preparation for their Saturday afternoon game against the bottom-placed Cronulla Sharks at Bathurst's Carrington Park.
A sellout crowd is expected at the venue, where Penrith played a trial against the Wests Tigers in 2013.
Speaking with Extra Time, in-form Panthers hooker James Segeyaro said he couldn't wait to play a game in front of the club's Central West fans but admitted he'd be lying if he said he wasn't thinking about the cold just a tad.
"I think it's going to be like five degrees during the day," he said.
"Weather aside, I'm happy the Panthers are bringing a game out there. I think it's really important we do as much as we can by giving back to the grassroots and going to areas like Bathurst."
Penrith's trip to Bathurst, which was announced in December last year, is expected to generate hundreds of thousands of dollars for the local economy, but it'll also do plenty for Penrith's brand too.
"It's good for our brand, the Panthers brand in Bathurst, knowing we've got a Leagues Club out there. If we can get more NRL games to areas like Bathurst, the better it is," Segeyaro said.
Another player looking forward to heading out west is Panthers utility Isaah Yeo, who two and a half years ago moved from Dubbo to Penrith to fulfil his NRL dream.
"Bathurst, being close to Dubbo, there will be a fair few family members out there. I think it's a great initiative from rugby league and Panthers to be able to take a game out to the country," he said.
Yeo said he remembers going to the odd professional rugby league fixture in Dubbo when he was a kid growing up.
"They had a City vs Country match out there one year and Andrew Ryan, also from Dubbo, organised a Bulldogs vs Raiders trial match out there too," he recalled.
"I expect a packed stadium out there on Saturday because it's not every day people from country towns can watch an NRL game live."