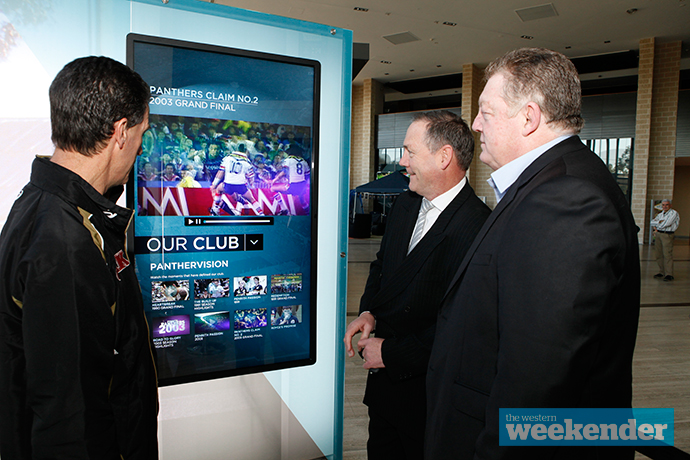 Launching a new era usually comes with many changes – some for the good, some up for healthy debate. But the Penrith Panthers, who are in the midst of creating their own new era, have taken a step back to respect the club's rich history by launching the NRL's first Interactive Museum.

Located in the Penrith Panthers Leagues Club foyer, the new Interactive Museum comprises of four dedicated interactive displays celebrating 'Our Greatest', 'Our Club', 'Our Juniors' and 'Our Scrapbook'. The 'hands-on' museum allows visitors the opportunity to stroll down memory lane, evoking wonderful reflections of the development of the Panthers club and its heroes.
Amassing a collection of several thousand images and videos, the free-standing kiosk has a touch-screen panel where visitors can view the content at their leisure.
Panthers boss and club legend in his own right, Phil Gould, said the Interactive Museum was the latest phase in the lead up to the club's 50 year anniversary in 2017.
"Everything we've done here at Panthers in the last couple of years has been about respecting the past and creating the future. There's a lot of history behind this club now and it needs to be celebrated," Gould told the Weekender.
"We have a great deal of pride in our history and those who have played for us. We wanted to record that so everyone coming through the club will see this interactive hall of fame and relive old memories, watch videos and see who our greatest players were."
Gould said the museum wouldn't have been possible if it wasn't for the hardwork of Club Chairman Don Feltis and his board. He also credited Panthers Group Marketing Manager Anthony Frantzis and Channel Nine stats guru David Middleton for putting it together.
"A lot of people from within the club have worked very hard on it, it's a wonderful concept," he said.
"We sent people around the world looking at different concepts and we were very impressed by the likes of Manchester United as well as various NFL clubs in America. But this is ours and we are very proud of it."
With the Interactive Museum being electronic it can be updated on a regular basis. Panthers officials are encouraging fans to submit any memorabilia they may have for possible inclusion in the future.
The museum is open seven days a week to all members and patrons of the Leagues Club.