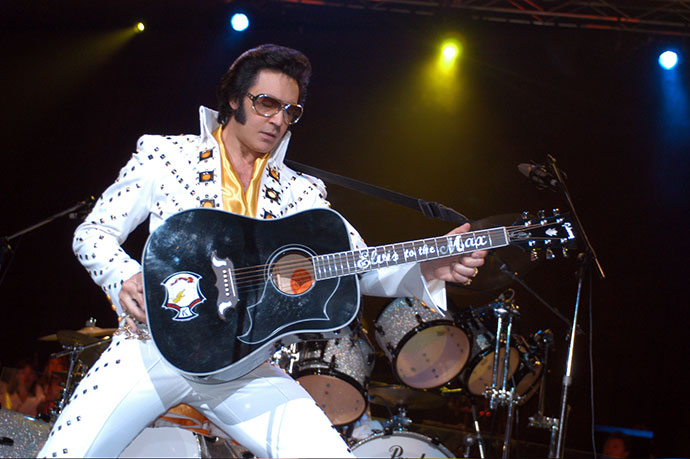 Max Pellicano doesn't class himself as an impersonator. Though the seasoned performer has been bringing Elvis to life on stage for over 20 years, Pellicano sees his show as more of an acting gig.

"With me too it's like I'm an actor, my first thing that I ever did was act and so I really do the Elvis show as an acting job, like I'm doing a musical," he said.
"I'm not saying I'm an impersonator because I don't look to sound identical to him or get plastic surgery to look exactly like him. My thing is a show, and I'm an actor and just like any actor you're doing a character, you're not impersonating somebody."
Pellicano studied Dramatic Arts at the University of California and it was his first acting role after graduating in 1974 that led him to the Elvis show he now brings to audiences around the world – one that has gained him a reputation as the best Elvis impersonator in the world.
"My first show that I got was a show called 'Bye Bye Birdie', which is like a 50's musical and the character Conrad Birdie was like a take off on Elvis," Pellicano said.
"So then I did that for a long time and I met a promoter who wanted me to go to Hawaii and recreate the 'Aloha from Hawaii' concert. I was supposed to be in Hawaii for about two weeks and I ended up staying there three years."
This led to a place in the 'Legends in Concert' show in Las Vegas, and the rest, as they say, is history.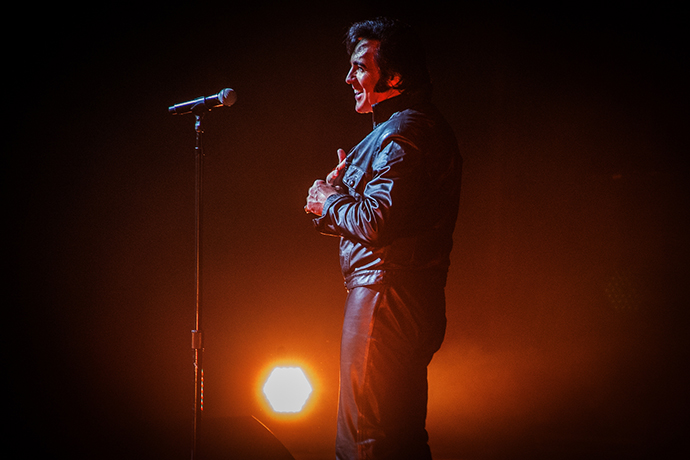 Penrith audiences will have the chance to check out Pellicano's acting chops when he comes to Evan Theatre on Saturday, August 2 and this time the show will include an 18-piece orchestra.
While he has travelled all over the world Pellicano has a soft spot for Australia, spending over 20 years visiting our shores.
"I've made a lot of friends there, I know a lot of people in Australia and you know it always gives me a lot of pleasure to be able to walk out on stage and I see people that I know out in the front rows and stuff like that, so it's pretty cool," Pellicano said.
There are many Elvis impersonators across the world, but Max Pellicano has a reputation as the best. So what does it take to bring such an iconic and beloved character to life?
"You've got to have a lot of hair," he laughed before reflecting more seriously.
"What makes it special is creating the character on stage but creating his personality."
"I think it's becoming him on stage and having a sense of humour and stuff like that and really relating to the audience and giving the audience a show and making them feel like they're part of the show."
Getting the look isn't cheap though. The 'White Eagle' costume that he wears on stage is an exact replica of the one Elvis wore in 1972, and cost $10,000 to create. It's not just about recreating the style though, Pellicano's connection with "The King" extends to the group of musicians he performed with too.
"I've had the good fortune to work with a lot of the people that worked with Elvis. I did shows with The Jordanaires and J.D. Sumner and The Stamps. So I've gotten to know a lot of the guys that used to work with Elvis," he said.
Pellicano has also performed with Dolly Parton, Don Rickles, Helen Reddy and the late Davy Jones, but it is pop singer B.J. Thomas – who is most well known for his hit 'Raindrops Keep Fallin' on My Head' – that Pellicano has particularly fond memories of.
"A lot of stars, they don't generally like somebody that's impersonating somebody else, you know what I mean," he said.
"It's kind of like… if you're going to be an artist they want you to be [an original]. But B.J. was great, he was very supportive and he was like: 'hey, you know, do your thing, that's your thing, do it'."
While Elvis is long gone – regardless of the fanatics and their conspiracy theories that 'The King' is still alive – Pellicano has one question he would like to know from the man who had such a profound impact on the music industry over the decades.
"The first time he heard his record on the radio what did he feel like? What was that feeling of recording something and hearing it on the radio? That would be the thing that I would love to know the most. What's that feeling like."
Elvis to the Max: The Orchestral Sessions will be on at Evan Theatre on Saturday, August 2 at 7.30pm. Tickets are $53.50. For more information on the show call 1800 061 991 or visit www.penrith.panthers.com.au.