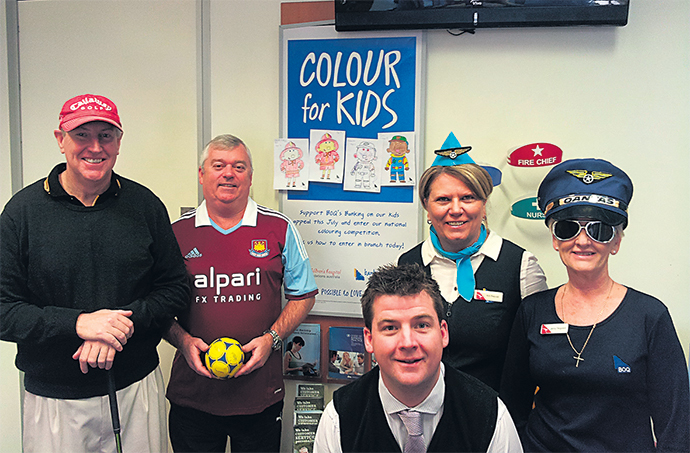 The team at Bank of Queensland (BOQ) Penrith took a trip back to their childhoods last week as they dressed up for their fundraiser Banking On Our Kids.

Each staff member dressed up in a costume reminiscent of what they wanted to be when they grew up and for many, their costumes were very different to their every-day wear.
While dressing up was good fun, it was also for a good cause: to raise money and awareness of the Children's Hospital Foundations Australia, which supports five of Australia's major Children's Hospitals.
"For our dress up day we all thought back to our childhood dreams and what we wanted to be when we grew up. It certainly surprised some of our customers when they found their usual bank tellers had transformed into doctors, lawyers, actors and all sorts," said BOQ Penrith Owner-Manager, Anthony Walker.
"But it was a great way to spread the word about our appeal and that's really what this is all about, raising funds for our country's children's hospitals."
The annual BOQ fundraiser has generated $1,357,000 in funds for the foundations to date and this year was aiming to add another $300,000 to the total.
"There are hundreds of sick children in hospitals across the country battling serious illness every day and we just want to do what we can to help them get healthy, go home and have the chance to grow up and achieve their dreams," Mr Walker said.
All donations from the appeal, which runs throughout July each year, go towards funding equipment and research into treatments directly related to children's hospitals.
"Through the Banking On Our Kids campaign BOQ has raised well over $1.3 million which has purchased the latest paediatric hospital equipment, funded groundbreaking research into childhood illnesses, supported capital projects and funded patient/parent services at our five children's hospitals," said National Director of the Children's Hospital Foundations Australia, Fiona Sutton.
"We are looking forward to celebrating with BOQ and all its employees and customers and we thank you for your ongoing support."
BOQ Penrith are also holding a fundraising lunch and golf day at Penrith Golf Course on Friday, August 1, with all proceeds going towards Banking On Our Kids. Members of the community are invited to attend lunch from 1pm, which will include guest speakers and a silent auction.
To book your ticket, contact Michael Eason at BOQ Penrith on 4723 7650.