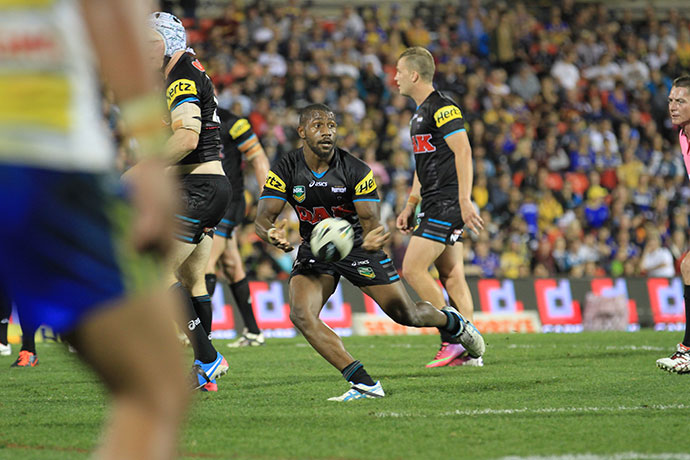 Ivan Cleary, James Segeyaro has a lot to be thankful for. You made his dream of becoming the club's full-time hooker come true… we'll let him tell you the rest.

"I want to thank Ivan for giving me the opportunity. I've been really enjoying it lately, it's a dream come true.
"My goal was to become an 80 minute hooker and now I'm there, I've just got to keep performing and winning to stay there."
Since taking over the number 9 role from club captain Kevin Kingston back in early May, the 23-year-old PNG international has been a breath of fresh air to Penrith's attack, scoring six tries since making the switch.
Speaking with Extra Time, Segeyaro admitted the transition from an interchange player to a starter has been relatively seamless.
"It's been easier for me in a sense that I don't have to go out there, come off the bench, and try and do everything at a million miles per hour," he said.
"I can be a bit more composed and let the game unfold, so in that sense its been pretty good."
While Segeyaro is performing out of sight in the top grade, his former dummy half partner in Kingston is biding his time with Penrith's NSW Cup squad.
With Kingston's rugby league career set to wind up in reserve grade at season's end, Segeyaro said there was no animosity between the pair, in-fact it was the exact opposite.
"Kevvy is an awesome bloke, very professional," he said.
"It was always the plan at the start of the year [to play 80 minutes] anyway. I suppose it was coming, but Kevvy is a person that always puts others in front of himself, especially the team, and that's why he's the club captain.
"When I got the role Kevvy congratulated me and wished me well, he's always been someone I've looked up to."
With the Panthers inching closer towards their first finals series since 2010, Segeyaro admitted fans haven't seen the best of Penrith just yet.
"We have a few tough games ahead that are going to challenge us. Games I look forward to playing like the Bulldogs on Friday night," he said.
"We've got plenty ahead of us. Our best is still coming."