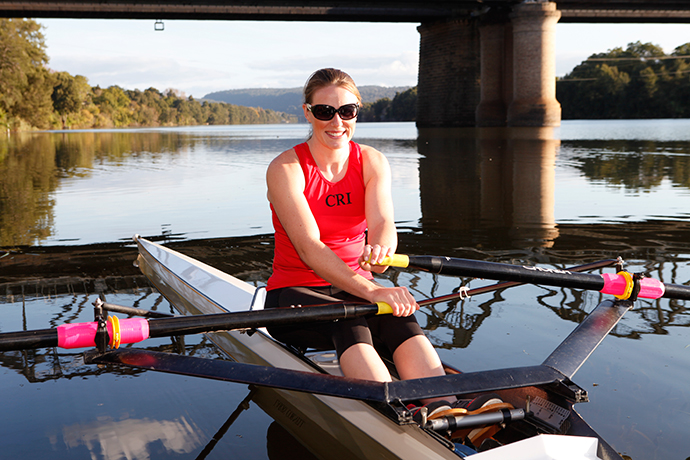 Kate Murdoch's coach, Lindsay Callaghan, has been involved in the sport of rowing for more than half a century and believes his young rowing protégée is "a natural" on the water.

It's a huge endorsement for any rower to hear words like that from a legend like Callaghan but that testimonial is made even more impressive when you find out Murdoch is almost completely vision impaired.
The 27-year-old from South Penrith was born with a severe sight condition that's deteriorated immensely as the years went on. She was declared legally blind at the age of 16.
Murdoch began rowing four years ago after her father, a former championship rower for Ireland, thought it would be the perfect sport for her to partake in with her vision getting worse.
"I was always sporty and my dad thought rowing would be an ideal sport because you are rowing backwards, how much do you need to see?" Murdoch said.
"I'm classified as a B2, there's really no usable vision. My peripheral vision went first, then my central vision, now it's just light perception."
However, despite her impairment, Murdoch continues to put everything she has into her sport and what she lacks in vision, she certainly makes up for in heart and determination out on the course.Murdoch took part in her first Rowing Nationals after just four months on the water, and she often competes against rowers of the opposite sex because there aren't too many women involved in the sport.
Murdoch said there was a long list of challenges she faces each and every time she goes out for a row but she is eternally grateful she has a coach of Callaghan's experience and patience riding alongside her.
"With a lot of rowers they can jump straight in the boat and follow their specific program, however I need a coach up to the task of doing absolutely everything for me," she said.
"I can't go out on the river by myself if I'm rowing single scull, I need direction, I need to be navigated everywhere I'm going. It's about finding someone willing to do those extra things for me."
In the coming months, Murdoch will take her talents overseas, first to Amsterdam in August for the Rowing World Championships then over to Boston in October for the Head of the Charles Regatta, an event she won last year.