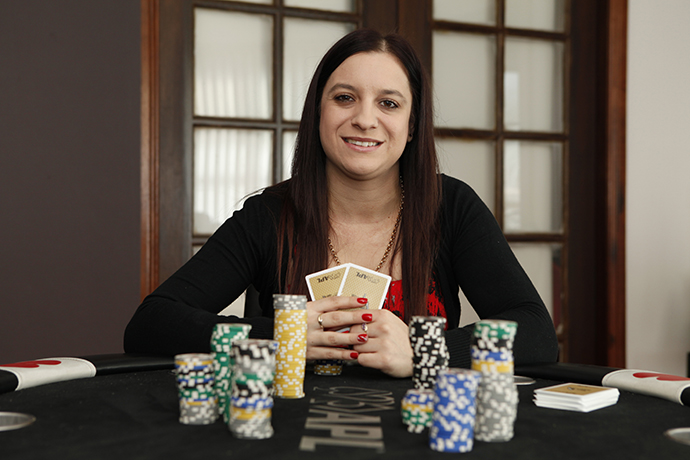 When you think of competitive sports, the sport of poker isn't the first thing that will always come to mind.
But when there's hundreds of thousands of dollars of prize money on the line, you should watch just how competitive playing with cards can be.
One local resident who will experience just that is 24-year-old Jessica German, who later this month will be jetting off to the gambling capital of the world, Las Vegas, to compete in the World Series of Poker – the pinnacle event of the poker world.
The Colyton resident, who only began playing poker with friends five years ago, will compete for the top prize worth well over $500,000 at the Rio Hotel and Casino.

Speaking with the Weekender, Ms German said she can't believe how playing poker one night with a group of friends has translated into her travelling the world.
"I had no idea how to play until a few friends got me involved and taught me one night," she said.
"This will be the biggest tournament I've played in so far and I'm excited to see what Vegas is all about."
Until now Ms German had only played in minor tournaments in and around Sydney as part of the Australian Poker League but soon she'll be up against some of the best, most devious poker players in the world. And the worst thing is… she can't even train for it.
"There's not a lot you can do to train for it because a lot of it is based on the run of the cards, so I just have to keep on doing what I'm doing," she said.
"I'm not one of those stereotypical poker players, I don't wear the sunglasses, the big headphones and hoodies… I don't get into it that much."
More than 40 Australian players will be travelling to Las Vegas including Glenmore Park local Siosifa Alatini. Ms German is one of just five Australian females heading over.
"It's definitely a male dominated sport but I think there is more and more women getting into it," Ms German said.
"Females don't often win the big tournaments however, but I'm hoping to do my best."