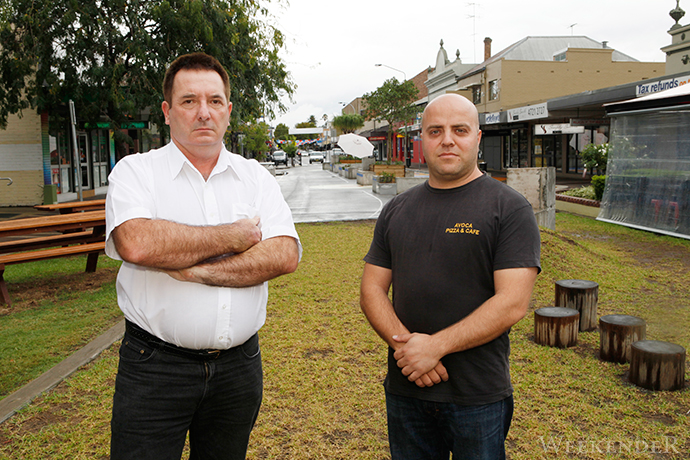 A total of 10 out of 12 car parking spaces will be reinstated at the closed end of High Street following a mid-trial review of the controversial pop-up park.

However, councillors at Monday evening's policy review meeting voted to keep the end of High Street closed to traffic and extend the 12-month trial of the park until March 2015.
Following complaints by local business owners that the closure of High Street for the creation of the park was hampering business, Council engaged planning consultants Hames Sharley to evaluate the success of the park and make recommendations on possible improvements.
21 park users were surveyed and 86 per cent said the park should be made permanent. Of 60 businesses that were also surveyed, 47 per cent agreed that the park should be made permanent.
57 per cent of businesses said that the park had made no difference to their bottom line and 23 per cent said it had adversely impacted sales.
A stand-out finding was that people primarily described the eastern end of the park as "concrete" and "empty" and so it was recommended that the eastern end be used to provide parking and support the more popular western end of the park.
Owner of Martin House, Robbie Martin, said he is very happy with the changes.
"To get any changes is an amazing result, and my issue has always been with the parking," he said.
"I still believe that traffic flow is a concern, however, Council has agreed to measure traffic flow, which is a good solution."
He said that additional parking will benefit both local businesses and the pop-up park.
"I also support the extension of the trial period as it was originally due to finish in November, meaning that either way there would have been roadworks going on in the peak Christmas shopping period. Now, those roadworks, whether it be to keep the park or remove it, will not occur until March."
Cr Marcus Cornish said he welcomes the reintroduction of parking near the triangle park, but feels the changes do not go far enough.
"Opening some of the park up for car parking is good but it does not provide the same level of parking as was available before the park," he said.
"The lack of traffic movement caused by the closure of High Street is still stifling business.
"And I think that it is terrible that we are increasing the length of the trial."
He said that although Council has allocated $30,000 to the activation of the park through events, he feels the expenses have been significantly more.