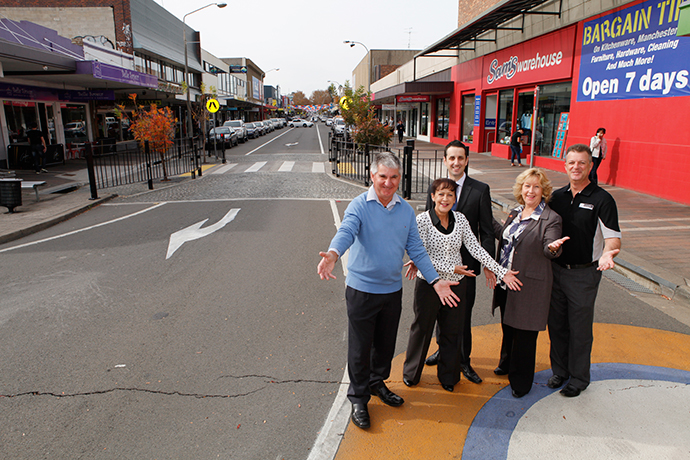 Gai Hawthorn has a vision. It involves cranes working feverishly in the Penrith CBD, new buildings opening and thousands of people who used to battle the M4 or the rail network walking to their new, locally based jobs.

Ms Hawthorn, the CEO of the Penrith CBD Corporation, hopes that one day this vision moves from dream to reality – and she may just get her wish, with the CBD entering a new phase of life with intense focus placed on it from multiple corners including the Penrith Business Alliance and various levels of government.
"We have worked on bringing back the pride to be part of the CBD," Ms Hawthorn said.
"We have many successful businesses throughout the CBD. We have worked with the smaller businesses that needed a hand.
"Some have had great success increasing their trade by 30 per cent and more. This has been achieved through our continued planning and education programs."
Working under the mantra of "Activate, Rejuvenate, Populate", the CBD Corporation has worked closely with key stakeholders to get the area moving again.
"The CBD businesses don't have the staff or time to work on individual events to bring commercial awareness, so through our regular events, we work with our businesses to achieve levels of awareness, foot traffic and sales into the CBD," Ms Hawthorn said.
"It's important to bring that vibe and energy into the CBD regularly to remind our community we do have a great CBD to visit.
"We all know the CBD needs a facelift. To start the ball rolling towards Penrith City Council's action plans to revitalise the CBD, we are working with property owners and local businesses to assist with facelifts, be it façade fronts, painting or signage.
"We have also been working with the Penrith Business Enterprise Centre on training and customer service programs, to ensure the businesses' growth for the future."
One of Ms Hawthorn's biggest challenges is reminding local residents who have abandoned the CBD in recent years that things have changed, and will continue to evolve.
"The CBD was the $2 shop strip," she said.
"Working with the commercial real estates and property owners we are 100 per cent on track to seeing a new era of diverse businesses pop up in the CBD. I have only three $2 shops now (they do bring a lot of shoppers into the strip) but we now have a lot of new and exciting businesses opening in the CBD.
"Take the time to look around, business and hospitality has changed and will continue to change and grow as we are all working together in partnership.
"A smaller challenge is getting to know all our CBD residents' owners and or retail managers… there is over 1,000 businesses and with a staff of two we are stretched. We do want to spend time with everyone and this is why we are creating a 'data membership' starting in July to ensure we do get to meet and work with as many businesses that are keen to also know more about the CBD Corporation and what we offer and also open the opportunity for other smaller businesses to connect."
One of the big changes to the CBD in recent months has been the launch of the pop-up park at the bottom end of High Street. Its implementation has been controversial to say the least but it enjoys the ongoing support of Penrith Council and Ms Hawthorn.
"The pop-up park has had mixed reviews, but the CBD Corporation is keen to give the trial just that, a trial to see if the Penrith community wants the open space to enjoy, have a space to relax in the fresh air for lunch, dinner or perhaps a community event," she said.
"We have funding and have been working on smaller events for the area including local entertainment and advertising for the retailers down that end of town.
"It's an open area that any community group/business can use. Booking through Corporation or Council is easy and opens up many opportunities to showcase their business in a open air environment.
"The general talk is people want to see more food and nightlife in the area, let's hope we get more investors thinking this would be a great spot to open a new venture and help create the vibe it is working towards."
But topping the pop-up park for controversy and complaints is the lack of parking in the Penrith CBD, which is an ongoing concern for locals and obviously drives people to Westfield Penrith instead.
"If you look around at the trend of CBDs most don't have the parking anymore, laneways leading from large multi-deck car parks seem to be popping up everywhere," Ms Hawthorn said.
"I agree that we need more parking, talk to anyone and it's the same talk, but I would like to see a trend for long-term 'full time workers' parking actioned so we have the available parking for our important short term customers during the busy workday.
"The answers are not that simple, because investment is needed and it's millions of dollars."
The long hours and tireless efforts are worth it for Ms Hawthorn, who believes she's making headway.
"I do believe in Penrith and the people and know that we have already turned the corner and the future is looking positive, we just need to keep that pride going and show investors we are the city to invest in," she said.
"Penrith MP Stuart Ayres has worked tirelessly helping put Penrith on the map for government jobs and relocation and we are looking forward to opportunities in the future."
"We are keen to see residential buildings go up into the CBD. Having more local residents would create a busier and more active CBD, leading to the opportunity for a stronger thriving CBD in sections of business, night time economy, coffee shops, laneways leading to our amazing arcades and services," Ms Hawthorn said.
It would appear that after years of inaction and confusion over the CBD, it finally has a bright future.
Now if only you could find somewhere to park.