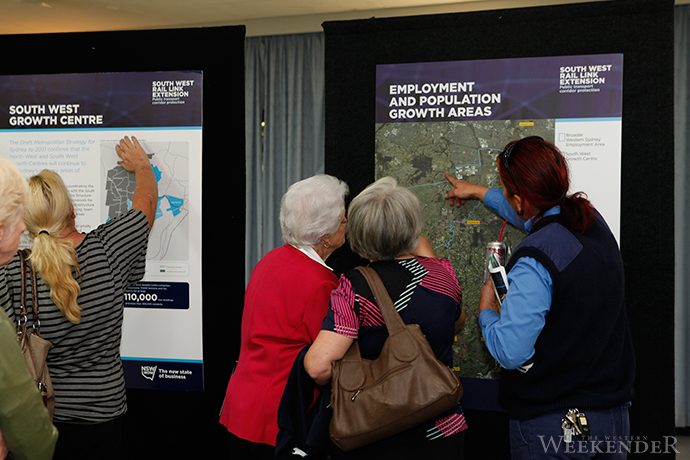 Penrith residents are being urged to have their say on the future rail corridor from Badgerys Creek airport to St Marys, with the first stage of NSW Government consultation due to end on June 6.

Last month, Transport Minister Gladys Berejiklian announced that the NSW Government would reserve a rail corridor for the extension of the South West Rail Link to accommodate future demand generated by Badgerys Creek airport.
The transport corridor is proposed to connect Leppington to Bringelly and then head in two directions: north to the Western Line near St Marys and south to Narellan.
A number of core stations are proposed in the existing and planned centres of Rossmore, Bringelly, North Bringelly, Oran Park and Narellan. It is also proposed to locate a station at Badgerys Creek for the airport.
But no core stations have as yet been identified between Badgerys Creek and St Marys, though additional stations will be considered based on community feedback.
"Longer term, we are putting plans in place to make sure Sydney's rail network will connect Badgerys Creek airport with the rapidly-growing communities that will rely on it," Transport Minister Gladys Berejiklian said.
"This corridor planning means when the time comes to extend the South West Rail Link we will be ready to go, and the costs will be lower."
Penrith Council is in the process of writing their submission to the NSW Government and is looking at issues such as how the rail extension should meet up with the Western Line and other issues.
"The rail corridor will support jobs growth particularly in the Werrington Business Park precinct and in the development and expansion of the Western Sydney Employment Area," Penrith Mayor Ross Fowler said.
"Council would also like the State Government to investigate a number of options further than what has been published so far to ensure that the rail corridor maximises the opportunities and benefits for the city and region.
"Some of these options could include possible corridor extension to meet up with the North West Growth sector and additional stations between the airport and St Marys, closer to the university and at the proposed Sydney Science Park."
Londonderry MP Bart Bassett is a strong advocate for reserving a North West Rail extension corridor to connect the North West Rail Link at Schofields/Marsden Park to St Marys also.
Residents will have a further opportunity to comment on the exact alignment of the rail line in a future consultation process with Transport for NSW.
"This rail project can provide to the communities of outer western Sydney with much improved access to jobs, education and other services. This is a defining moment in western Sydney's economic future," Cr Fowler said.
A report to Council on the rail corridor is due in the next few weeks for councillors' approval.
If you would still like to have your say, visit the Transport for NSW website.