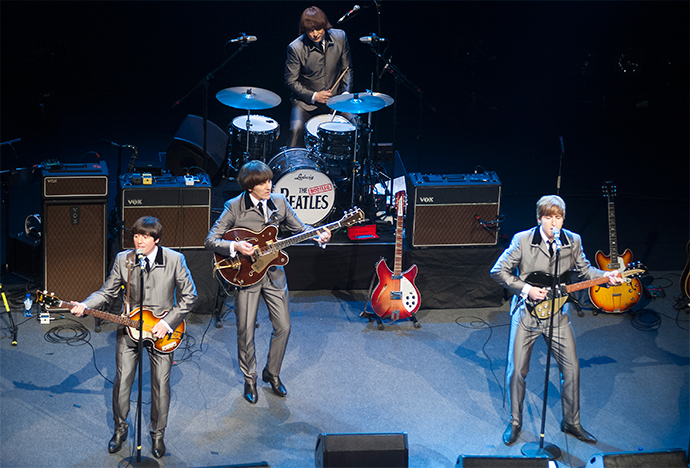 There is much to consider when you're a member of a cover band. Not only do you have to be able to play the band's music, you also need to get the look and mannerisms of the band down pat.

It's definitely not an easy gig.
But Steve White, who plays the role of Paul McCartney and is the newest member of the Bootleg Beatles, decided he would make it even harder for himself.
"I'm a natural right handed guitar player, and we'd do a show and people would come up at the end of the show and say 'oh we really enjoyed that but it's such a shame you're not left handed'," White said.
"I just thought to myself well it's really true because we spend all this effort on getting the suits and the boots and the guitars and all the little bits and pieces and the obvious thing being overlooked is the left hand so I thought, 'I'm just going to have to give it a go and see what happens'."
And give it a go he did, spending three months and between eight and 10 hours a day practicing the guitar left handed and developing some mean blisters in the process.
"It was quite quick, but it was intense," White said.
The Bootleg Beatles are arguably the biggest and longest-running Beatles cover band in the world, having played at Glastonbury Festival, Royal Albert Hall and at Queen Elizabeth's Golden Jubilee celebration at Buckingham Palace, as well as appearing on 'The Graham Norton Show' in the UK.
Though the Bootleg Beatles originated in 1980, White is the newest member, having joined the group at the end of 2011.
He was originally playing in another Beatles cover band before they disbanded and White became a self confessed 'freelance Paul McCartney'. It was then that he received a phone call that any freelance Beatle would die for.
"I just got a call one day from the Bootleg Beatles saying could you stand in for our guy, which I was absolutely over the moon about, never expected that in a million years," White said.
"I ended up filling in for him for quite a number of shows and then again after a short period I got another phone call saying it looks like our guy is going to be calling it a day, how do you feel about having the job full time, and well it was like all my Christmases had come at once. I was absolutely ecstatic."
It was a dream come true for a fan of the biggest Beatles cover act in the world.
"I'd actually been one of the paying public, I'd been and paid to see the show a number of times so I knew exactly what they were all about so for me to get that offer, that blew me away really," White said.
White does admit, however, that his start in music was not quite as successful as his time playing the role of Paul McCartney. As many musicians can attest to, it's not easy making a living off original music.
"You've got these big ideas but they never really materialise and then after a period of time you lose faith and you know that it's not really going to happen," he said.
"And then you want to be in a band that's just making music and enjoying themselves. So you end up just doing covers because the public can relate to cover songs rather than your own material and it just turns into a really enjoyable experience."
Penrith audiences can expect to experience a wide variety of work from the Beatles' back catalogue when the band head to the Evan Theatre at Penrith Panthers on Friday, May 30 – starting with the lovable suited mop tops all the way through to their later work on Abbey Road.
"We try and cover as much of it as we possibly can and hopefully try and do as many favourite songs," White said.
The Bootleg Beatles also pride themselves on having extra musicians playing brass and strings, to give audiences the chance to experience the songs that the Beatles never performed on stage.
With a little help, they bring to life songs such as 'Penny Lane', 'Eleanor Rigby' and 'All You Need Is Love'.
"There's no actual live footage in any way of the Beatles actually performing these songs, so I think the fact we can perform these on stage with the addition of brass and strings is great because it gives the audience the opportunity to see what those songs would have been like had the Beatles performed them live. I think it opens that little void for the public to be able to visualise that and I think that's nice," White said.
With a strong following, the Bootleg Beatles draw quite a varied crowd to their shows, reaching a wider audience than what you might expect for a Beatles cover band.
"You would expect them all to be rather silver haired senior citizens being the Beatles, but the incredible thing is we get loads and loads and loads of younger people coming all the time. Back in the UK we just recently finished a March tour and there was one audience member that was four years of age, this little girl and she was actually singing the words to the songs, incredible," White said.
White clearly loves what he does and is excited to get back to Australia, with this tour being his third trip to our shores.
"I love Australia and I love the Australian people," White said.
The Bootleg Beatles will be performing at Evan Theatre on Friday, May 30. Tickets are $56.50. For bookings or more information, call (02) 4720 5555 or visit www.penrith.panthers.com.au/entertainment.