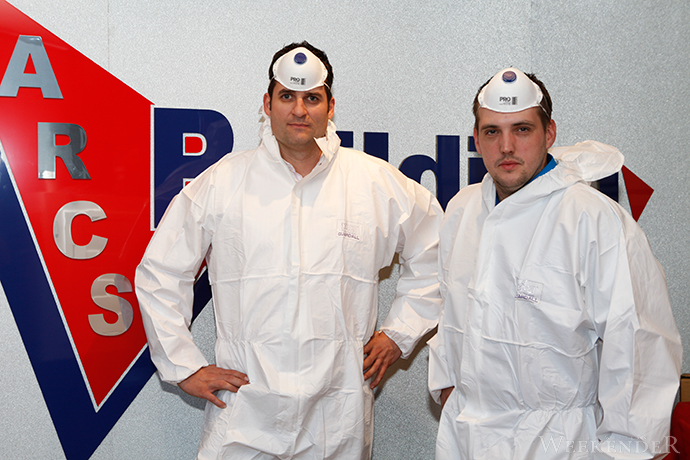 Over 20 years ago, asbestos containing materials were prohibited. However, asbestos is a deadly legacy that many families in Penrith and across Australia are still battling with as a health risk and a cost burden.

It's a legacy that has been left in approximately one in three Australian homes, homes that young families are increasingly choosing to renovate.
Barry Robson, President of the Asbestos Disease Foundation of Australia says that decades after the tragic James Hardie cover-up, asbestos has reared its ugly head again.
"There is a new wave of home renovators moving into older areas who are coming into contact with asbestos," he said.
A 2013 study published in the Medical Journal of Australia conducted a survey and found that 61 per cent of those who identified themselves as a DIY renovator had been exposed to asbestos, and 40 per cent had exposed their partner.
Currently, licenced asbestos removal is regulated by WorkCover NSW, but not all asbestos removal work requires a licence.
"Unfortunately, the law stipulates that if you are handling less than 10 square metres of asbestos, you do not require a licence to dispose of it or handle it. If the asbestos is larger, then a licenced removalist must be employed," Mr Robson said.
"We have never agreed with this rule because it means that ordinary residents are legally allowed to handle asbestos, even though just one inhaled fibre is all it takes to cause asbestos diseases such as mesothelioma."
But Mr Robson says his organisation receives countless calls from people wanting to do their own removal work, putting them at risk of contracting potentially fatal diseases such as mesothelioma, asbestosis or lung cancer.
"It's heartbreaking and frustrating because we receive so many queries about DIY asbestos removal and you talk to people and try to convince them to get a professional in but deep down you know that they will try to remove it themselves," he said.
Phillip Grueff is the CEO of ARCS Group, which offers a range of building services, and says that people are going down the DIY route because of the costs associated with asbestos removal.
"We do both commercial and residential services, and the costs of disposal are a rip off," he said.
"If we go to a residential property to remove asbestos, it can cost $600 just to have a specialised bin brought in. Then the tips will want to charge you $250 to dispose of the waste.
"It is even more infuriating when you see that they just throw the asbestos in with all the other rubbish and roll over it with their bulldozers."
He said that many people are even illegally dumping asbestos because they cannot afford to dispose of it properly.
"For a single mum who finds asbestos in the bathroom, or a young family who have just moved in and discover it in their roof, they are dealing with such an expensive process," he said.
"Residents shouldn't be dealing with asbestos, and they shouldn't be charged to dispose of it, it should be a service provided by Council or the government."
SITA is one of the large landfill facilities that takes asbestos waste and operates drop-off points for residents.
"We do get a reasonable amount of residents dropping off small amounts of asbestos waste but they seem to have a grasp on the safety issues as it is commonly wrapped up in plastic," explained SITA Sydney Landfills Manager Andrew Kosciuszko.
He said that the cost of asbestos disposal is reflective of the high regulatory compliance required by WorkCover and the Environmental Protection Agency (EPA).
"Asbestos has to be wet down immediately and buried. None of our equipment comes into contact with the asbestos and it is buried in a separate area," he said.
"The cost is reflective of the fact that we have to keep our staff safe and that we must adhere to strict handling rules. It is not that much more than the cost for normal household waste."
He said the cost also reflects the EPA imposed landfill levy, which is currently $107.80. The per tonne cost for asbestos waste at SITA's Eastern Creek waste management facility is $471 per tonne.
Mr Kosciuszko said that SITA always encourages residents to use a licensed contractor for removal, not matter how small the amount of asbestos.
Penrith Councillor Ben Goldfinch holds an asbestos licence himself and agrees that untrained residents should not be handling asbestos.
"It would be worthwhile to look at changing the licencing conditions so that untrained residents cannot handle asbestos, but that licenced tradesmen such as plumbers or carpenters who may have to deal with asbestos can still dispose of small amounts," he said.
"Many people aren't notifying WorkCover either, nor do they understand how small 10 square metres is. If you have a garden shed that's 1.5 metres wide and double coated, there can be up to 20 square metres of asbestos sheeting in that structure."
Penrith Council has just agreed to take part in a trial that would see the EPA subsidise residential asbestos waste disposed of by a professional on behalf of a homeowner by $50.
"The trial would educate Penrith residents about the dangers of asbestos and encourage them to have their small asbestos waste safely removed by a professional," explained Council's Waste and Community Protection Manager Tracy Chalk.
Mr Kosciuszko said that with a subsidy, the cost to take asbestos to a landfill facility will be less than the cost for household waste.