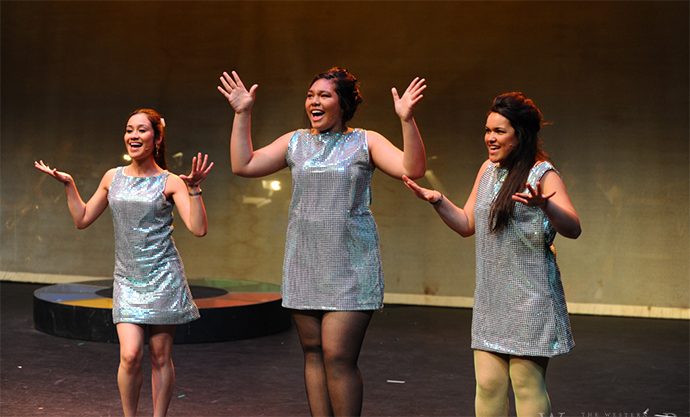 Get ready to step back in time to 1960's Baltimore when the hit Broadway musical 'Hairspray' comes to Penrith again.

Penrith Musical Comedy Company will be returning 'Hairspray' to the stage after its first season of the production in 2012 included sell-out shows and rave reactions from audiences.
The musical, which is adapted from the popular Broadway hit, will be showing at the Joan Sutherland Performing Arts Centre from Friday, May 9 through until Sunday, May 17 and is sure to impress local audiences even more the second time around.
Grant Jones, President of the Penrith Musical Comedy Company, said that the theatre group had decided to rehash 'Hairspray' due to the success of the show and added that many of the original performers were back.
"We did the show two years ago, in 2012, to sell out crowds so we thought, let's bring it back. Most of the original cast are back, but we've got some new people as well," he said.
The 2014 cast features a mix of original and fresh performers, with Rachael Thompson returning to the lead role of Tracy Turnblad, accompanied by Jones as her mother Edna, Jeff Cefai as Wilbur, Joel Kellett as Link and Rachel Crane as Penny Pingleton.
Other main cast roles are filled by Zoe Carroll, who plays the beautiful but snobby Amber, Mel Roberts as Motormouth Maybelle, Laura Hodge as Prudy Pingleton, Nathan Hodge as Corny Collins and Anne Cefai as Velma.
Beyond a touching storyline, the amazing retro costumes designed by Bek Want and created with the help of Kathy Briggs and Leonie Jeffery will make audience members believe they've travelled to 1960's mainland America.
With glamorous retro costumes, insanely catchy songs and a heart-warming yet funny plotline, 'Hairspray' has been reincarnated many times for audiences.
It first began as a comedy film in 1988, was adapted into a Broadway musical in 2002 and again hit screens in a 2007 film remake.
Set in the early 1960's, 'Hairspray' tells the story of Tracy Turnblad, a 'pleasantly plump' but kind-hearted teenager who feels self-conscious about her weight but longs to appear on her favourite local TV show 'The Corny Collins Show' and dance with dreamy celebrity Link Larkin.
Despite her size and the bullying she faces, Tracy pursues her dream and in the process gets caught up in the changing atmosphere of the United States after she befriends African-American dancers and sees the discrimination and segregation they face.
According to Jones, the enduring popularity of 'Hairspray' can be attributed to the uplifting plot and anti-discrimination themes, which are still relevant regardless of context.
"It's such a fun show and I guess the storyline is a fun storyline where good triumphs," he said.
"Everyone likes the underdog to win… Tracy is the underdog, the larger girl who gets on TV and wins the boy.
"There are some big issues in there to do with racism and segregation that are told in a musical way."
Jones, who dons a woman's bodysuit to play Tracy's overweight, homebody mother Edna, said that the show is inspirational because each of the characters go on an emotional journey to reach a new level of enlightenment.
"Everyone in the production overcomes obstacles and goes on a journey," he said.
"My character, Edna, hasn't left her house since she became quite large and during the show she gets inspiration and becomes happy with who she is.
"The lead character, Tracy, is trying to reshape the world and tries to bring about integration. There are some quite strong themes in the production, which are still around to this day."
Revisiting a musical that they had already performed before gave the company an opportunity to tweak the show and improve any problems they had encountered during the first run.
In the lead-up to the play, the cast workshopped the show extensively with almost all of the performers contributing feedback and suggestions on what they felt would make 'Hairspray' even better for their Penrith audience.
"It's a more dynamic show and things that didn't really work last time, we were able to change and fix and revise," Jones said.
The addition of some new blood into the cast, including a fresh actor to play the character of Wilbur, also gave Penrith Musical Comedy Company's production a different, exciting atmosphere.
"It's quite nice to work with somebody new, it gives a new dynamic to the little group," Jones said.
With a majority of actors in 'Hairspray' coming from the local area, the production is an excellent opportunity for people to support arts and culture in the community.
"The thing is, theatre in Sydney is quite expensive to go to in the city… our tickets are $35 for adults and it's supporting the local community," Jones said.
"It's a vibrant show and just a feel-good show where you can just come and forget about your worries for two and a half hours."
Penrith Musical Comedy Company will be performing 'Hairspray' at the Joan Sutherland Performing Arts Centre from Friday, May 9 until Saturday, May 17.
Tickets range from $20-$35. For bookings or more information, call 4723 7600 or visit www.jspac.com.au.