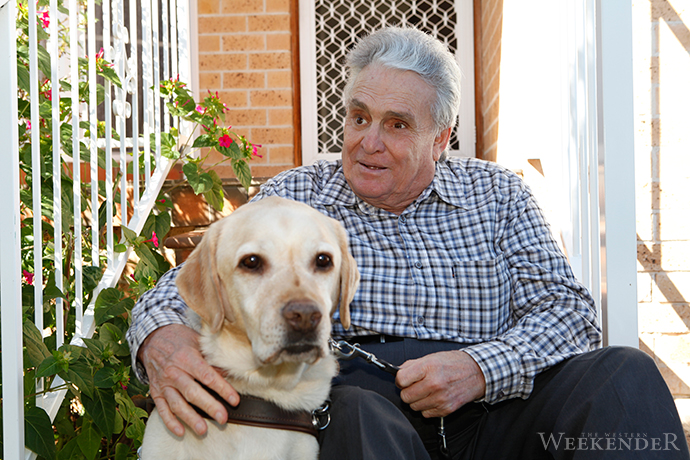 A savage attack by a dog that was loose on High Street has put the life of a guide dog and his owner in grave danger.
It was about 7.15am on Monday morning when Murray Wilcockson and his guide dog Dawson were walking down High Street towards the intersection with Castlereagh Street.
"We were walking along past the Post Office and down to Castlereagh Street when Dawson let me know that there was a dog in front of us, as he is trained to do that," Mr Wilcockson said.
"So I took his lead firmly in my hand and as we got closer I realised that the dog was not on a leash. I had just taken a step onto Castlereagh Road when the dog attacked Dawson. We were both terrified."
Mr Wilcockson yelled for help and fortunately two men came to the rescue and pulled the vicious dog away from Dawson.
"We were very fortunate because there is usually no-one around at that time of morning so I don't know where they came from but they definitely saved us," he said.
"They held the dog and I said I was going to call the police but then there were two officers, a male and a female, on their way to the police station and so they 'arrested' the dog and took it with them.
"I don't know who the men were but I am so thankful that they helped."
Mr Wilcockson took Dawson to his workplace, the Penrith Disability Resource Centre, where he called a vet and Dawson was taken for treatment.
He said he was fortunate not to be attacked himself, or involved in a traffic collision, but feels very sorry for poor Dawson who has suffered bite marks to his head. He spent Tuesday resting at home.
"People need to realise that they must keep their dogs locked up or on a leash because guide dogs like poor Dawson help people with their mobility," he said.
Just last week, on April 30, Guide Dogs NSW launched their 'Take the Lead' campaign as part of International Guide Dog day, urging dog owners to be more responsible.
They conducted a national survey of guide dog owners, which found that one in two guide dogs across NSW and the ACT have been attacked by another dog while guiding its handler.
"We're alarmed that so many guide dogs are being attacked by pet dogs and are appealing to dog owners to keep their pet dogs on leads when out and about," said Dr Graeme White, CEO of Guide Dogs NSW.
"Guide dogs play a vital role in enabling people who are blind or vision impaired to get around independently. Attacks compromise this independence and can cause serious injury and trauma to both the handler and the guide dog. We're encouraging dog owners to take the lead to help create a safe community."