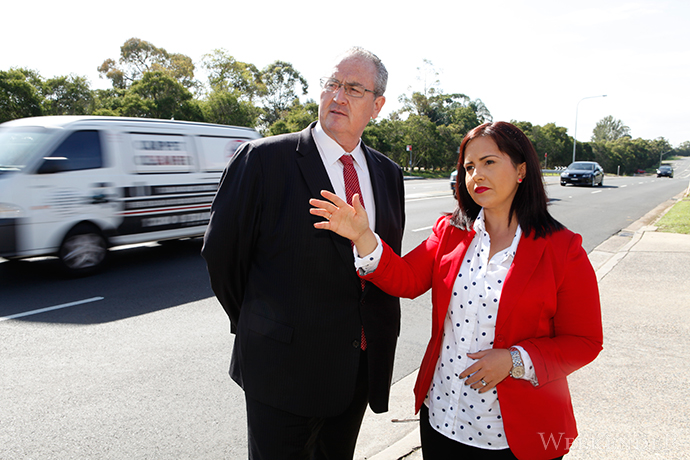 Labor Candidate for Londonderry Prue Car and Shadow Roads Minister Walt Secord have endorsed an innovative new way to stop motorists from speeding – without hurting the hip pocket.

Visiting Dunheved Road at Werrington County on Wednesday, Cr Car said that residents were very concerned about speeding on the main thoroughfare.
"Doorknocking residents in Werrington County and Werrington Downs, there have been a number of complaints about drivers speeding past the local shopping centre, making it difficult for those turning onto Dunheved Road," she said.
"People trying to make a right turn from the shops have been caught out thinking there is enough time but there isn't because drivers are not adhering to the speed limit.
"There have been a lot of accidents here involving speeding."
But rather than install a speed camera to deter motorists, Mr Secord and Cr Car would like to see solar-powered speed monitors trialled along the road.
The speed monitors show a driver their speed so that they are reminded to slow down and would cost $5,300 to install.
"The O'Farrell Government claims that it wants to change behaviour and would be happy if no one was fined. That's why speed monitors are a great solution – they tell motorists if they are over the speed limit so they can respond immediately, instead of receiving a fine weeks later," Mr Secord said.
"They are being trialled in Leichhardt Council and have been successful and would be a good solution in Werrington too."
Cr Car called on the State Government to trial the speed monitors in Werrington County as soon as possible.
"Everyone wants safer roads and the Government should be exploring different ways to make this happen," she said.
"Responsible motorists often just need a reminder to slow down and that's why these monitors are so important."