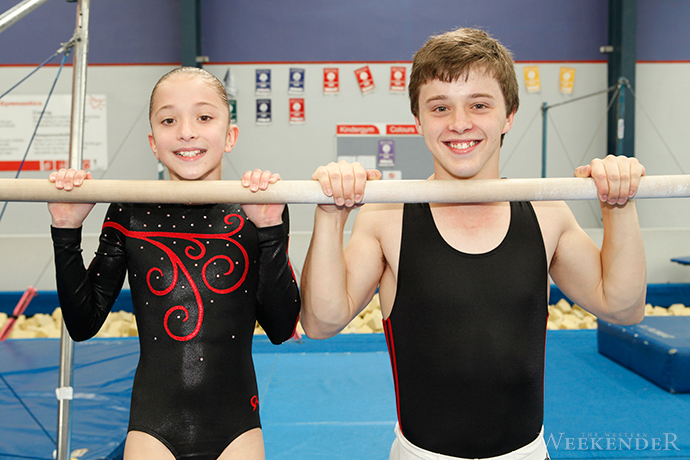 Two local gymnasts from YMCA Penrith will be heading to Melbourne next month to compete at the highly coveted Australian Gymnastics Championships.

It will be the first time 16-year-old Corey Dehn and 10-year-old Annabelle Passau will represent NSW at the prestigious tournament, taking place at Melbourne's Hisense Arena.
Annabelle, who travels from her home in the Blue Mountains to YMCA Penrith up to five times a week, said she was both excited and nervous about making the team.
"I'm excited to go to Melbourne to compete against other states and make new friends," she said.
Annabelle will compete on the bars, beam and floor with the latter being her favourite.
Annabelle said she loves doing gymnastics because she gets to hang out with her friends.
"I've been doing gymnastics for around five years and I hope to continue doing it as I get older," she said.
Also making the team is St Marys Senior High School student, Corey Dehn, who's been doing gymnastics for 10 years after his mum encouraged him to give it a go.
"My mum thought I was so flexible and daring to do stuff, so I thought it was a good idea," Corey said.
"I now train four hours a day, three days a week and even coach young kids coming through at YMCA."
Corey, who competes on floor, pommel horse, rings, vault, parallel bars and the high bar, said it was his ultimate goal to make the Australian Gymnastics Championships and the moment he found out he was left speechless.
"Last year I had the chance to make the Nationals but I didn't place overall," he said.
"This year when they finally called out my name at the presentation I was almost in tears, that's how happy I was.
"All the other gymnasts that got chosen their parents didn't even cheer but when my name got called out the whole club got up and cheered."
Both gymnasts hope they do their absolute best when competition gets underway on May 21.