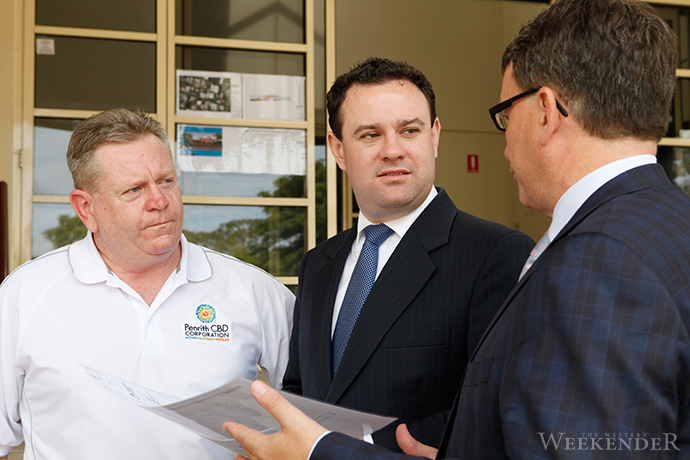 By June Penrith residents will have a one-stop shop for a wide range of government services after construction on the new Service NSW centre began last week.

Member for Penrith and Minister for Fair Trading Stuart Ayres said the Penrith Service Centre was part of the NSW Government's commitment to deliver a better customer experience to residents and businesses.
The Penrith centre will be the third Service NSW centre to open in western Sydney (after Parramatta and the soon-to-open centre at Liverpool) and will be located right in the heart of the CBD at 333 High Street.
"Service NSW provides a one-stop shop service for customers to carry out more than 850 government transactions and access services in the one location," Mr Ayres said.
Mr Ayres joined Service NSW CEO Glenn King, Penrith CBD Corporation CEO Gai Hawthorn and Chairman Owen Rogers to make the announcement and view floor plans of the new centre as construction gets underway.
"This is an exciting new service for the people of Penrith and I'm confident that our community will benefit from the expanded services and expanded hours Service NSW offers," Mr Ayres said.
When it opens the Penrith centre will provide transactions available at agencies including Roads and Maritime Services, Fair Trading, Family and Community Services and Births, Deaths and Marriages.
These include driver licences, vehicle registrations, boating licences, applications for birth certificates, owner builder licences, fines and Seniors Cards, among other services.
More transactions and services will be added in the future. The centre is to open its doors by late June.
"The Penrith service centre will be open from 7am-7pm Monday to Friday and 9am-3pm on Saturday. We also have our 24/7 transaction options through our digital service at www.service.nsw.gov.au or our phone service 13 77 88," Mr Ayres said.
When the service centre opens, the Motor Registry at York Road, South Penrith and the Fair Trading counter at Station Street will relocate to the new one-stop shop. Mr Ayres said the centre, which previously housed the Department of Community Services, was in the heart of the CBD to offer more convenience to customers.
"Importantly, the extended hours will help customers who may want to come in first thing in the morning or later in the day to beat the daytime rush."