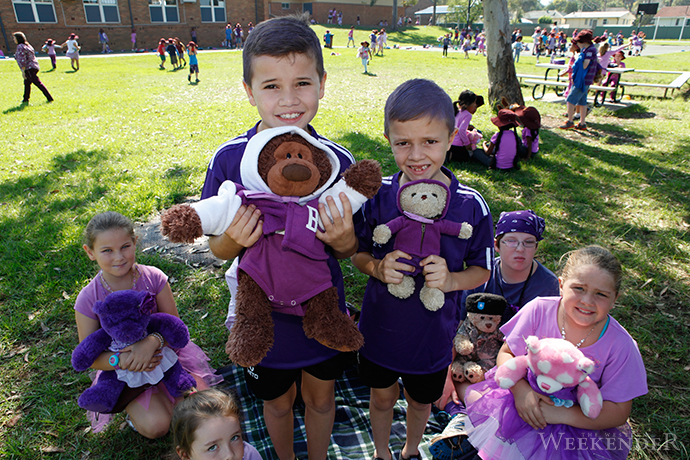 Students from Penrith South Public School brought their teddy bears to school on Wednesday for a special epilepsy awareness picnic.

Noah Duffett, an eight-year-old Penrith South student, has had a rare form of epilepsy from a very young age where he has up to six seizures a day, sometimes lasting up to 30 seconds.
Instead of dropping to the ground in a fit, which is the most common perception of epilepsy, Noah has laughing seizures, called gelastic seizures.
Epilepsy can be a traumatic experience for the boy, and the regular visits to the hospital for tests don't help – but through it all he has Baxter; a special and "very cuddly" epilepsy teddy bear adopted by the family as part of Epilepsy Action Australia's Ted-E-Bear Connection program.
"When Noah is having a bad day, Baxter is the biggest comforter – he comes everywhere with us," said mum, Kylie Duffett.
"He is the first thing Noah asks for in the morning and I guarantee that as soon as he gets home from school he will go straight to his room and give Baxter a cuddle."
Noah is very lucky to have Baxter, but some kids with epilepsy don't have the same luxury, so Penrith South Public School's SRC wanted to do something to help.
By holding a Purple Ted-E-Bear Picnic on Wednesday, the students were able to raise funds to be donated to Epilepsy Action Australia's Ted-E-Bear Connection program, to allow for more kids to have access to these special bears.
"It is great that we can put money into the Ted-E-Bear program, which will help kids who may not be able to afford one. Of course, it is great to put money into research and development but giving kids this immediate comfort is a great thing," Ms Duffett said.
The picnic lunch also helped to raise awareness of the diversity of epilepsy among students.