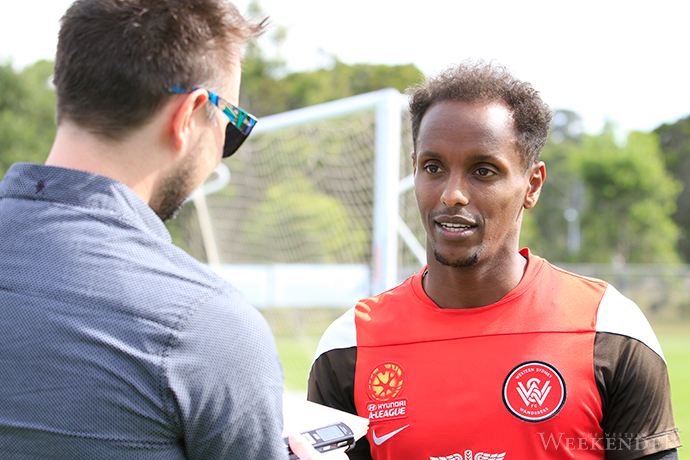 One Wanderers player that shares a different Grand Final pain to the rest of his teammates is outgoing attacking midfielder, Youssouf Hersi.

Last year the Ethiopian-born Dutchman was denied playing in the biggest game of the year after he received two yellow cards in the Grand Final qualifier and was subsequently suspended from the decider.
Speaking openly with the Weekender about that tough moment in his footballing career, the 31-year-old said all he wanted to do after that second yellow was pulled was escape out of sight.
"When I came from the field, I wished there was a tunnel into the dressing room," he admitted.
"However, I had to return to the field after the game because we were receiving the Premier's Plate award. It was very difficult."
While the rest of his teammates were preparing for the biggest game of their lives, Hersi's game day experience was a lot different.
"I had to sit in the stands, I couldn't shake my teammates hands, I wasn't allowed to go in the dressing room. I felt so much disappointment," he said.
"I saw the loss differently too because when you're on the field you're playing and focused. I felt like fan."
When pre-season finally returned midway through last year, Wanderers coach Tony Popovic had one message for his squad: "let's get to another Grand Final".
Hersi said the emotion of preparing for a Grand Final is overwhelming but when he's on the Suncorp Stadium pitch this Sunday afternoon he plans to be switched on, ready to make an impact.
"I'm buzzing and excited, I just want to lead my team," he said.
"I want to score the goal. I want to push them. I want to give them something back.
"I plan to run like crazy. It doesn't matter how much they kick me, I will run my ass off."
The Western Sydney Wanderers story over the past two seasons has been incredible, even Hersi himself agrees. No one can quite believe the success the club has had both on and off the field since their inception in 2012.
"It's a big story – first year Premier's Plate and Grand Final appearance. This year another Grand Final appearance and finishing top of our Asian Champions League group. But the story isn't finished yet," he said.
"We have to finish the story, and this Sunday we will."