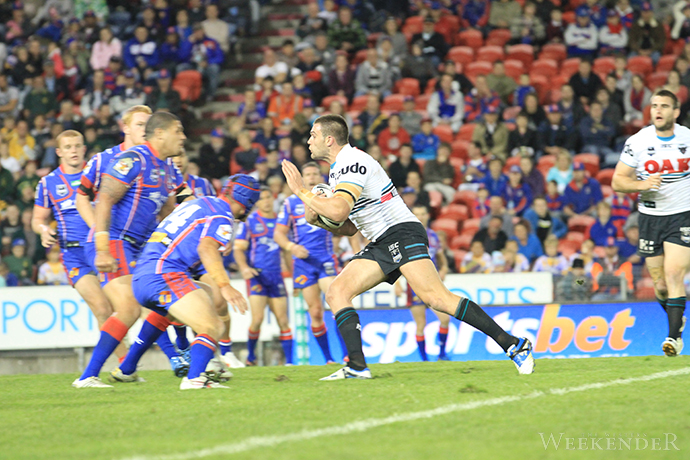 Panthers coach Ivan Cleary says prop Tim Grant has "unfinished business" at Penrith, giving every indication that he will resist temptations to drop him from first grade ahead of his move to South Sydney at the end of the year.

The Panthers confirmed on Friday that Grant would be released at the end of the year to take up a four year deal with Souths, just 19 days after Panthers boss Phil Gould said he would not be leaving the club.
"It is my hope and I'm sure Tim's hope, that he gets to play many more years with the Panthers, and that would be the best result for all concerned," Gould said on March 31.
When announcing his departure, the Panthers attempted to explain the mixed messages.
"Tim approached Penrith officials several weeks ago about a possible release, but after negotiations he agreed to see out his term until the end of 2016. However, after a change of heart he again approached club bosses to ask for a release, which has today been formalised," the club said in a statement.
The 26-year-old made his debut for the Panthers in 2007, and is a St Marys junior
Panthers coach Ivan Cleary said he wished Grant all the best for the future.
"He's not the first person to leave the club and he won't be the last," he said.
"In today's day and age it's all about commercial decisions and this is one of those, but he's also made his decision that it's time to move on and we wish him well."
Cleary said Grant was looking forward to tonight's clash with Gold Coast and finishing his time at Penrith on a high, before replacing Sam Burgess at Redfern.
"There's certainly a lot of unfinished business before that happens – Tim's a proud Penrith junior and I'm sure he'll want to go out in the best possible way," Cleary said.
"He's handled it really professionally… the rest of the team have been right behind him and it's been business as usual."