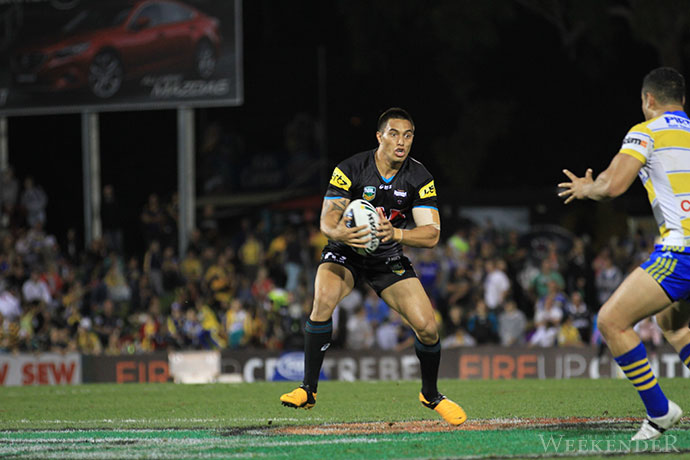 Even though Panthers and New Zealand international centre, Dean Whare, signed a long-term deal that will keep him at the club until the end of 2017, he still often looks over his shoulder in fear of the many young, hungry centres below him, gunning for his spot.

Last November, the 24-year-old made such a huge impression in the Rugby League World Cup that when he landed back in the country, he almost instantly was rewarded with a contract extension.
But despite his outstanding form and professionalism off the field, Whare is rather wary of rising Panthers centres George Jennings, Isaah Yeo and Waqa Blake, because not that long ago he was one of them.
"I try and help the young guys as much as I can but at the same time they keep me on my toes because they are trying to take my position," Whare admitted.
"It was like that at Manly when I had Jamie Lyon and Steve Matai in front of me, I did the same to them. I kept them on their toes and made them more hungry to stay there, that's where I'm at now."
Whare believes his spot in first grade is safe for the time being but all it takes is a few bad games for him to go from the penthouse to the doghouse.
"I have to do the little extras to stay in front of them. If I play a couple of bad games I could be gone," he said.
"That's my mentality going into every training session and game. It very well could be my last but if I do my best I know I'll stay there for a long time."
One asset that will give Whare an edge over his younger counterparts is the immense confidence he gained playing alongside some of the world's best players in New Zealand's World Cup team.
"I had a great right edge in the World Cup with SBW, Shaun Johnson and Roger Tuivasa-Sheck… I think that helped me confidence-wise and mentally," Whare said.
"It opened up a lot of doors when I came back. It made me more confident and helped me for the better."