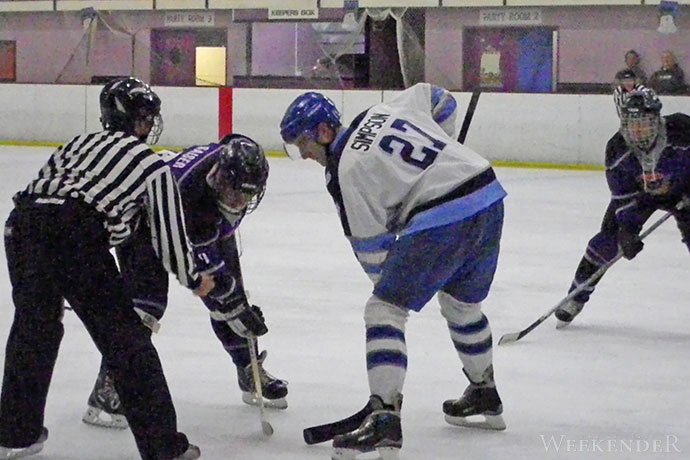 The Penrith Phantoms ice hockey club are furious that they've been relegated from division one to division two less than a week out from their opening game of the 2014 NSW Ice Hockey season.
The farcical move came after the division one Penrith Phantoms, who finished last in the 2013 season, were asked to play the 2013 winners of the division two competition, Sydney Kodiaks, in a do-or-die battle with one awarded a spot in division one and the other in division two.
Unfortunately for the Phantoms, they were beaten 2-1 by the Kodiaks last Sunday night at the Penrith Ice Palace, meaning there will be no Penrith team represented in division one this year.
Phantoms captain George Kozumplik said his side were "gutted" at the decision, especially considering they were only given just a week's notice that there would be a relegation game.
"It's bureaucracy, the NSW Ice Hockey Association don't want an odd amount of teams in competitions because they don't want to have to deal with byes or double headers," he said.
As it stands there are six teams in division one which includes three teams from Canterbury, one team from Norwest, Liverpool and now the Sydney Kodiaks.
Funnily enough division two will now field two Penrith teams, with the two Phantoms counterparts going head to head in this weekend's season opener.
Kozumplik added that what made the ruling even more devastating was his side was set to feature a new and much more competitive line-up this year which included a returning player who won the league scoring title three years straight.
"I can understand moving us down if we had the same team as last year, because we'd probably be better off playing in an easier competition, but we've recruited some new talented players for this season," he said.
"There's a pretty good chance we'll absolutely 'kill' the other teams in division two this season."
Kozumplik said he holds no animosity towards the Sydney Kodiaks from taking his team's spot in the top competition, and believes they will perform very well in season 2014.
"The Kodiaks just wanted to move up a division, they didn't necessarily want to replace us but they wanted to join us," he said.
"The Kodiaks are a good, competitive team and will be a good asset to the competition. But I strongly believe the Association hasn't handled it well at all."
The Phantoms will look to strengthen both teams in division two by evening out the talent across the two sides.