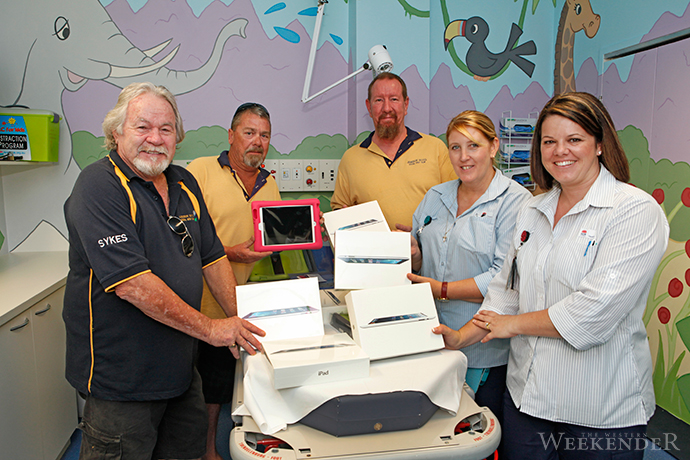 Receiving treatment in hospital can be a scary experience for anyone, especially local kids who often are in need of distractions to make their stay away from home more comfortable.

A group of local blokes, the Jamison Hotel Social Golf Club, have spent the past 12 months saving the profits from their weekly raffles in order to give these children the distraction they need, in the form of iPads.
The club donated six iPads, complete with colourful cases and iTunes vouchers, to the Nepean Hospital Children's ward on Monday morning.
"We are all based here in this community – our kids come here, our grandkids come here if they are ill. We want to make sure that there is something here for them to do and enjoy," said Mick Britten, Club Treasurer.
The ward was previously home to two iPads, which made an enormous difference to the kids receiving treatment, until one was stolen last year.
"In this day and age, this is what the kids are using – they use them in school and at home – and we have had a couple of regular kids who come in who are always asking 'can I have the iPad'," said acting Nurse Unit Manager, Shannan Waddups.
"During winter we get quite busy and there are a lot of kids in here. Having only the one iPad can make it difficult to distribute it around."
The iPads will be used, for the most part, in the Children's Ward to make the treatment experience a good one.
"We will use them a lot for procedural pain, so when kids are having a procedure they can use it as a distraction – we have games and movies on them, music for the older kids," Ms Waddups said.
They will not only be used in the Children's ward but anywhere in the hospital where there are kids.
"We are going to give one to recovery so that when the kids are coming into theatre they have something to do, and when they are coming out of theatre, they have something to do then too," said Paediatric Clinical Nurse Consultant at Nepean Hospital, Kathie Barry.
"It will mean they aren't just sitting around and they won't have to see the nasties."
Monday's donation of the new iPads to Nepean Hospital was not the first time this group of blokes has shown their generous spirit.
The Jamison Hotel Social Golf Club donates funds and equipment to the Nepean Hospital Children's Ward, among other organisations and charities, on an annual basis in what has become a "tradition" within the club.
The new iPads are now in use at the hospital.