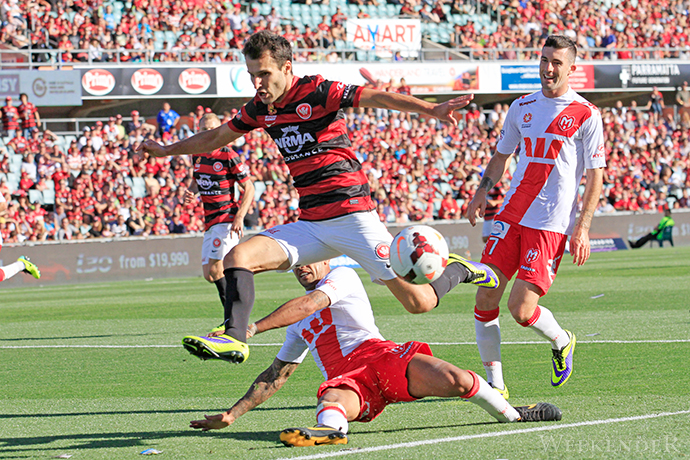 Two losses on the trot to Korean side Uslan Hyundai and Newcastle Jets and a protest by the club's main supporter group need to be put in the rear-view mirror as the Wanderers line up Sydney FC in the Sydney Derby.

The match will be played away at the Sydney Football Stadium and a large crowd will be on hand if the first edition of the Derby this year is any indication.
On that night – late October seems such a long time ago now – the Wanderers took to the pitch in front of an almost sold out ground where it seemed half of the fans were supporting the men in red and black.
Fast forward to last weekend and the leading fan support group, the Red and Black Bloc, staged a protest against what they believed to be "divisive" communication from the Wanderers club in the wake of flares being lit during the mid-week Asian Champions League match.
The fan group, perhaps self-righteously, refused to cheer during the match against Newcastle Jets. The result was a dulled stadium experience pointed out numerous times during the game by pundits. Many wondered if it contributed to the disappointing 2-0 loss as much as backing up from mid-week.
No matter the state of the RBB the Wanderers have a pressing problem to solve on the pitch – a recurrence of colossal defensive errors.
Of the three goals conceded by the Wanderers against Ulsan Hyundai last week, two were directly because of poor clearances and marking. In particular, the first one was not cleared off the head and then also wasn't controlled out of the danger area by a second defender.
Against the Jets on Sunday the first goal was scored by a completely un-marked player on the back post on the end of a cross. A completely unforgivable situation for a side that relies more on a strong defence than prolific attack.
Sydney FC head into the Derby with fluctuating form. Their last five matches have produced two wins and three losses. Convincing one week and poor the next.
One thing they have done during that period is leak goals. They've conceded eight in that five match stretch.
Wanderers fans and players alike will be looking at this match and be confident of getting on the scoreboard. The obvious threat on the Sydney FC team sheet, although in and out through injury, is Alessandro Del Piero. He was good in patches during Sydney FC's loss to Central Coast Mariners on the weekend, and in those patches the side was at its best.
Pleasingly the kind of defensive mistakes – headed clearances, lobbed passes not controlled and marking for crosses or set pieces – aren't the phases of play Del Piero is most dangerous.
The hope for this weekend is a Derby to savour with a resurgent Wanderers side supported by loud, well behaved fans.