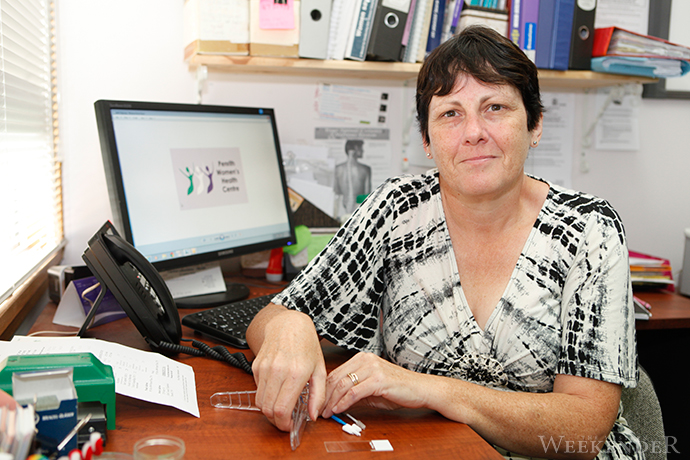 A large portion of Penrith's women are putting themselves at risk of serious health conditions by not taking the time to get themselves to a health professional for a Pap smear.

The Nepean Blue Mountains Local Health District quarterly report shows that cervical screening rates are very low for women of both average screening age groups, 20-49 and 50-69, especially in the Penrith Local Government Area.
Cervical screening, or a Pap smear, is a simple procedure to check for pre-cancerous changes in cells, in order to catch cervical cancer before it progresses.
Only 50 to 60 per cent of eligible women are screening across the board, with these statistics significantly lower for Penrith.
"There could be many reasons why women don't screen. There is the 'down there' embarrassment or perhaps a previous experience has stopped them from coming back," said Penrith Women's Health Centre Women's Nurse Practitioner, Jo Perks.
Women who have experienced sexual abuse are less likely to book themselves in for a screening, as are women of some cultural backgrounds and mothers who are strapped for time.
"I often say to women who come to see me that we need to look after ourselves before we look after others. Pap tests only take a minute to do and they can save your life," Ms Perks said.
According to the Australian Government Department of Health's National Cervical Screening Program, women should have their first Pap smear between the ages of 18 and 20, or two years after they first become sexually active, whichever comes first, and should continue getting screened every two years.
Women should have a Pap smear even if they have had the Gardasil, or HPV vaccination.
"I'd like to see women talking about this – we don't often see screening discussed but it should be. We need to talk about where we can get screened and feel comfortable to take the step and get it done," Ms Perks said.
Penrith Women's Health Centre offers cervical screening.
For more information, visit www.penrithwomenshealthcentre.com.au or call 4721 8749.