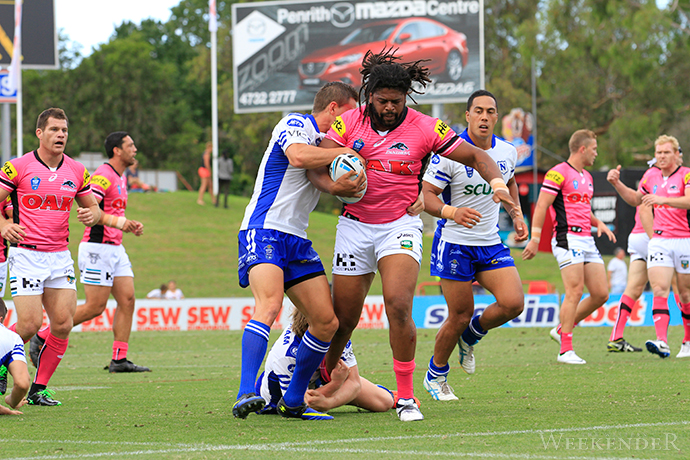 There has always been a feeling that one day, some time, the Penrith Panthers would emerge as a dominant force in the National Rugby League.

The two spikes of success in 1991 and 2003 aside, it's pretty fair to say that the Panthers have been the sleeping giant of rugby league since entering the senior competition nearly 50 years ago.
Well maybe, just maybe, the giant is about to be awoken.
The 2014 Penrith Panthers look nothing like the side that took to the field last year.
In fact, you could be excused for thinking the crew from 'Extreme Makeover' had been through Panthers HQ.
Penrith will go into the 2014 season having strengthened every position that needed it, adding depth through the squad and a sense of real expectation.
Without doubt the biggest change at Penrith this year is in the halves, with the Luke Walsh era finally over and Jamie Soward partnering Peter Wallace to guide the side around the field this year.
The signing of 29-year-old Soward has been criticised in some corners, and he certainly left the Dragons in difficult circumstances, but it is clear that Soward now finds himself with the right support network and in the right frame of mind to make the four years of his contract at Penrith a success.
Soward's long kicking game, his ability to create something out of nothing and his experience in successful sides will count for plenty at Penrith.
He is not the type of player who can do it alone though (which was part of the problem at the Dragons), hence the signing of Wallace helps provide the perfect combination.
Wallace is a Penrith junior who would clearly feel he has something to prove after leaving the Panthers at the end of 2007 and never quite finding his feet at Brisbane.
Together, Soward and Wallace are the type of combination that play on each other's strengths and allow the talent that exists around them to shine.
One of the most talked about recruits has of course been Jamal Idris, whose surprise signing certainly rocked the NRL and had bookies questioning their long odds for Penrith to win the 2014 premiership.
Idris offers strength, power and speed that simply wouldn't have existed with Brad Tighe, and there is no doubt that he makes Penrith's right side attack incredibly lethal.
But the real impact players at Penrith this year could be those who haven't been on the lips of every rugby league journalist in the country.
The Panthers' signings of Elijah Taylor from the Warriors, Kevin Naiqama from Newcastle and Tyrone Peachey from Cronulla could well turn out to be master strokes.
Taylor in particular is a strong acquisition and it is no surprise that the Warriors in fact tried to find a way to keep him after he'd already agreed to join Penrith.
And then there's Brent Kite, who comes to Penrith after a successful career at Manly – a club he was hoping to see out his career with. He looked better than expected in last weekend's trial against Newtown.
"I would have loved to have stayed at Manly – but I think I dealt with all of that last year," Kite said.
"I had mixed emotions with leaving and I was very sad to leave… but I felt like by the end of the year I'd dealt with it, celebrated the time I'd had there and was ready to move on to the next chapter."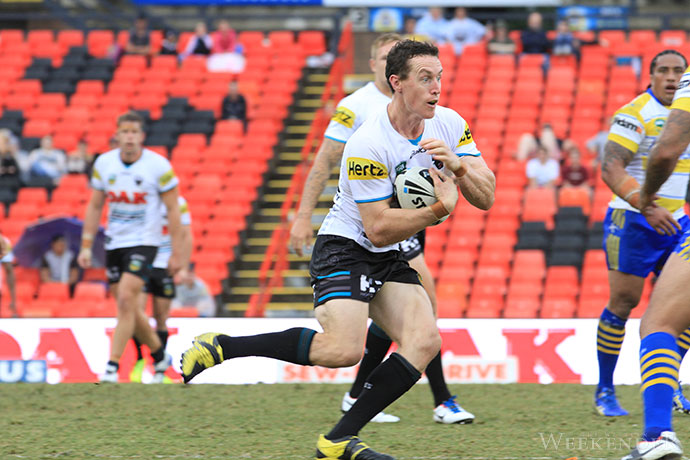 Kite will play a key mentoring role with the club's young players – if he can catch them.
"I thought I could get out of here and inspire these young chargers but I'm finding that hard to do at the back of the pack," he joked.
It is when you look at Penrith's squad as a whole that you realise just how strong it is.
You think you've named the top six or seven players, then you remember a wrecking ball like Nigel Plum or a cool, calm head like Kevin Kingston. Or what about livewire hooker James Segeyaro or the flying James Roberts, who will be returning from an injury in the first half of the season.
Want more? The under-rated Adam Docker, the try-scoring machine David Simmons, big props Tim Grant and Sam McKendry, and rising fullback Matt Moylan are also in for big seasons.
Success is certainly not guaranteed at Penrith this season.
In fact, there is a fair degree of risk involved in Penrith's fortunes. After all, should Soward, Wallace and Idris not fire, it is hard to imagine the Panthers fighting for a finals spot.
But if the side can remain relatively injury free, it has the right mix of players to make 2014 a success.
And perhaps more importantly, it has younger players being groomed for the years that may follow any immediate success.
Going back to the drawing board is an option nobody wants to consider.
It's time for the rise of the Panthers. It's time for hopes and dreams to turn into reality. In 2014, it may just happen.