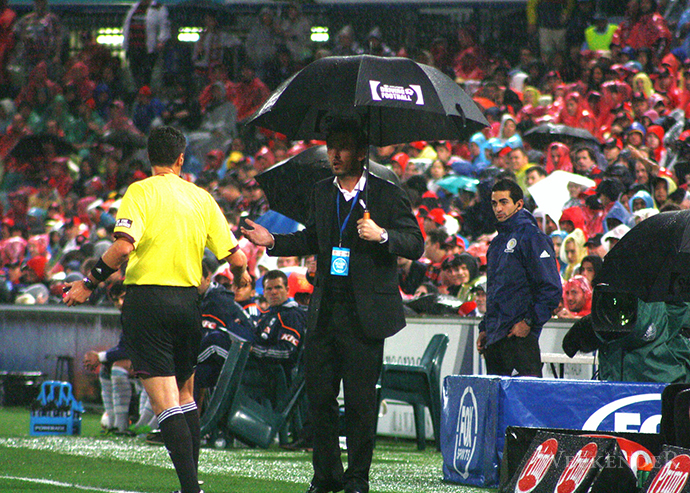 A big win has put the wind in the Wanderers' sails as they begin a stop-start stretch of their schedule with a trip to Newcastle this week.

Starting on Saturday the Wanderers need to tack and jibe well as they play away-home-away-home-away in a five week sequence.
Concentration is needed with a good tally of points if they are to chase down the Roar in first place on the ladder. At worst they need some points to consolidate their second place leading into the last stretch of five matches, which includes three at home.
Going into their match against Perth Glory last Sunday there were question marks over the Wanderers' form and ability to threaten for a competition victory.
That was put to rest with a strong performance and, given their position on the ladder after their wobbles throughout the last month; coach Tony Popovic's willingness to swap experience with youth and move players around the pitch is also working well enough. Recent results have maintained their position and the team is now finding form. The Wanderers scored three goals against Glory last week, all by different players. They went to Brendan Santilab, Aaron Mooy and Mark Bridge.
All three goals came in different modes of the game. Goal one, to Santalab, was a great sweeping move that gave the Glory no time to recover before it was in the net. Goal two was a deflected free kick by Aaron Mooy, who needs to get on the score-sheet more often. Goal three arrived through a Mark Bridge game-clinching penalty after the Glory got close enough to take points.
Tomi Juric would still be considered the Wanderers' best goal scoring threat – with five goals out of 10 appearances and just 25 shots taken – after playing well in stretches this year. But it's important the team provide other scoring threats so they don't become one-dimensional.
When teams have one prominent threat and not much else in second place the opposition can plan more clearly to shut a side down. Overly simple attack means a coach only needs to teach simple plans, which in turn means players carry out their duties more efficiently.
While the goals were the symptom, the diagnosis was a much more fluid midfield highlighted by Matthew Spiranovic moving into the anchoring role to support Aaron Mooy, rather than his usual home in the backline. His presence at the back of the midfield seemed to give the Wanderers a security blanket and released Mooy to roam more than he's been allowed to in recent weeks.
Looking forward, the hope will be this sees Mooy and perhaps Ono move into more goalscoring positions than they've found themselves in this season. If that could be achieved the Wanderers will suddenly look like a much better team with the ball.
Dean Heffernan, the 100-plus game veteran was able to plug Spiranovic's central defender position.
Popovic may be tempted to keep Spiranovic in the more advanced role – emulating a similar transition to Mark Milligan at Melbourne Victory – even after Mateo Poljak and Iacopo La Rocca return from injury.
Newcastle come into this match on the back of a three-nil drubbing to a Central Coast Mariners side trying to kick-start their season similarly to the Wanderers. The Jets haven't won since December 20th, so the Wanderers would have to fancy their chances this week. That win was also the last time the Jets scored twice.
The Wanderers haven't scored bags of goals this year, but there are signs things are starting to change, this week should continue that improvement and provide plenty to cheer about for the fans in red and black.