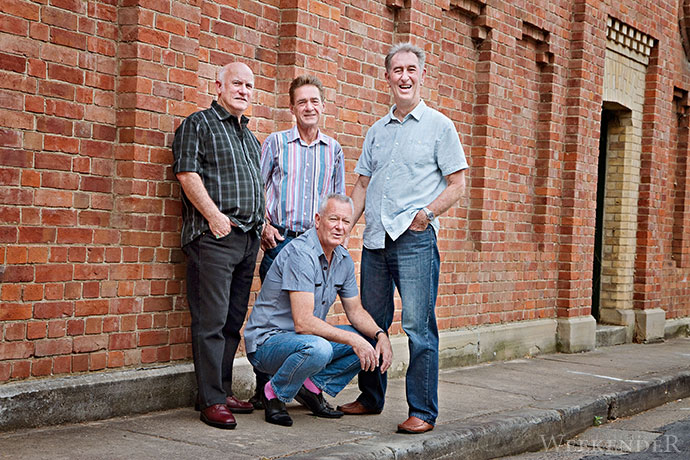 The Delltones have been one of Australia's most iconic bands for the past fifty years and still manage to keep their fans happy.

The popular group will be performing at Rooty Hill RSL on Friday, February 21, bringing all of their classic hits to the stage.
Led by the instantly recognizable, quirky singer Ian 'Peewee' Wilson, The Delltones have been a prominent part of the Australian music industry since their early days in the 1960's and have outlasted many bands.
Their one-of-a-kind music, which combines doo wop and rock, earned them a solid fan base in their heyday and the band released a string of hit records over the years.
Some of their famous songs include 'Gee, You're The Limit', 'Get A Little Dirt On Your Hands', 'Come A Little Bit Closer' and 'Hangin' Five' as well as others, which will be performed at the show.
While The Delltones struggled with line-up changes in their earlier history, the band's members have remained stable since the 1990's, with Wilson being joined on tour by fellow musicians Woody Finlayson, Merv Dick and Owen Booth.
The quartet have brought The Delltones music back to its simple yet catchy roots as a four-part harmony, and promise an entertaining, lively night of music.
"The whole idea of The Delltones show is that unlike others that are trying to relive their early years in a sea of nostalgia and reminiscing, The Delltones will be out there and hopefully we can tease them out of the past and bring them into the here and now with some songs that are aimed at the heart and the feet," Wilson said.
Despite having a long career behind them, The Delltones intend to keep performing and creating music for as long as their fans still want them to.
"I'm very, very happy with the way the band's performing, we don't have anything to prove anymore, we have an audience out there, it won't go away… as soon as it goes away, you can say goodbye to The Delltones, otherwise I'll bop til I drop," Wilson said.
The Delltones will perform at Rooty Hill RSL on Friday, February 21 at 8pm. Tickets are $38. For bookings or more information, call 9625 5500 or visit www.rootyhillrsl.com.au.