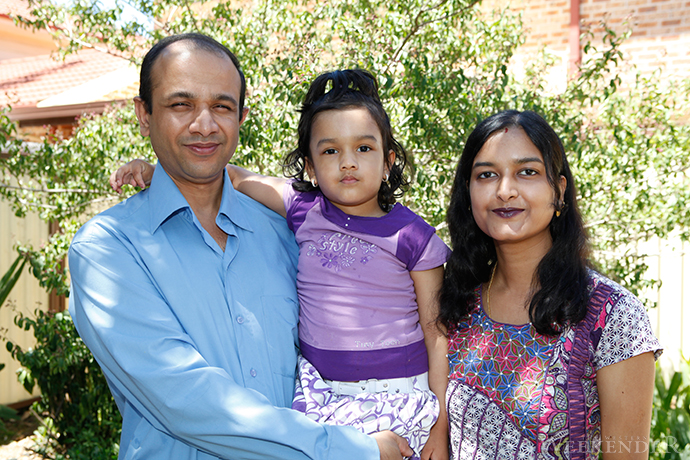 The desire to serve the country, to have greater opportunities for work and to raise their family with the best life possible drove Naveen and Manju Gupta, migrants from India, to become Australian citizens on Australia Day this year.

Joining tens of thousands from 155 countries around the globe in becoming Australian citizens this week, the Werrington couple made the pledge on Sunday, January 26, at Penrith's Australia Day Citizenship Ceremony.
"The ceremony was very good – everyone gave us the feeling that we were someone important to the country. We have a warm feeling that we are now part of Australia," Mr Gupta said
"We want to settle down here for the rest of our lives and want to serve the country as best as we can."
The couple has lived in Australia for over four years, living in the Penrith area for the majority of those years, where they are now raising their three-year-old daughter.
"There are more opportunities here, especially in the Penrith area, for us rather than in India. Our daughter can have the best education here – we want her to become a doctor," Mr Gupta said.
Mr and Mrs Gupta saw Penrith as the perfect place to settle because of its size, close facilities and the relatively quiet streets, in comparison to the inner west.
"Penrith is a very open area – everything you need with regards to your life is here, including all amenities and the business district," Mr Gupta said.
"If we had more employment in Penrith, that would be good. Most people from Penrith, Emu Plains and the Blue Mountains [unfortunately] have to go to the city for work."
76 people from the local area pledged to become Australian citizens at the local ceremony, which was full of both emotion and excitement.
"Our nation is made richer by contributions from people from many lands," said Penrith Mayor, Ross Fowler.
"No applicant for Australian citizenship is expected to renounce their cultural identity, customs or traditions. But it's important we all share some common hopes and goals for the future."