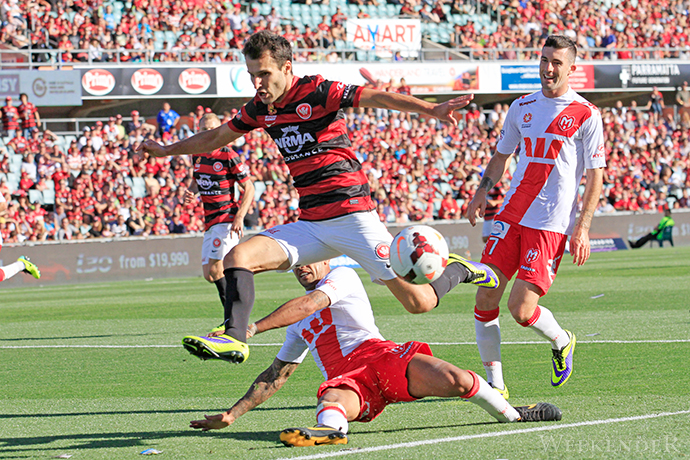 Returning to Pirtek Stadium this weekend will be a welcome change for the Wanderers after two rounds on the road that yielded two losses.

They host Perth Glory who couldn't take three points against a 10-man Brisbane Roar last week but not for the first time this year, the off-field happenings for the Wanderers are in the news – with the addition of Shinji Ono to the list of A-League star movements.
The loss of Ono at season's end is going to be hard to fill and club management has suggested they will look overseas to fill the superstar's void, possibly in Japan.
The return of Socceroo Tom Rogic and possible departure of Alessandro Del Piero have also made headlines in recent days.
Ono's comments during the press conference announcing his departure will give Wanderers die-hards food for thought. He mentioned that he didn't want to leave but Japanese Club Consadole Sapporo offered him a greater "vision" and a better contract than his Parramata side.
There is talk the Wanderers could have offered a better contract, but the possible imminent sale of the club has hamstrung the current management. New owners might want a chance to make a high profile signing of their own, but a replacement that equals Ono's quality is not guaranteed.
Looking to this week's match, an uninspiring performance against Adelaide United will need to be put in the past quickly.
That might be tough given the Wanderers displayed tendencies present in many matches already this season – lacklustre attack, failure to hold possession on attack and generate shots on target.
The contrast of being out-passed by United 355 to 252 while also only making 30 tackles to 33 shows this side isn't in a groove at the moment, no matter what style of play is the desired outcome.
A defensive and counter-attacking side needs to have a stronger tackling and defensive presence than that and a side trying to score more goals will need to secure possession for longer.
United's early single goal was enough to secure victory because the Wanderers continued to sit back and allow United to hold possession.
United holding a 55% possession rate but only a 27% territory stat means the Wanderers allowed them to hold possession in their own half and play the game at their own tempo.
Many of these issues are solvable and Tony Popovic will surely be demanding a more suffocating press when the opposition has possession as a start.
Pleasingly the Brisbane Roar, in first place on the ladder, had a similar stop-start month, so the gap to first is a manageable five points.
It will encourage Wanderers fans to know that the Glory have struggled all year in matches requiring travel to the eastern states after a home match. Those games have resulted in three losses to Brisbane Roar, Melbourne Victory and Central Coast Mariners. The other long distance away game following a match at home was to Wellington Phoenix early in the season and the result there was a draw.
At this point there is a clear pattern emerging and the Wanderers will hope they aren't an aberration when they meet this weekend.
In the Wanderers favour is a strong home record and the chance to build a fortress-like record awaits them.
This year's seven home fixtures have yielded 16 points from a possible 21 punctuated by five wins. That record could be improved to 19 from 24 this weekend and would surely be at least a moat, if not a castle. The best bet would be a Wanderers win this weekend, extending the Glory's poor away trend, especially since Popovic will be expecting much better from his troops.