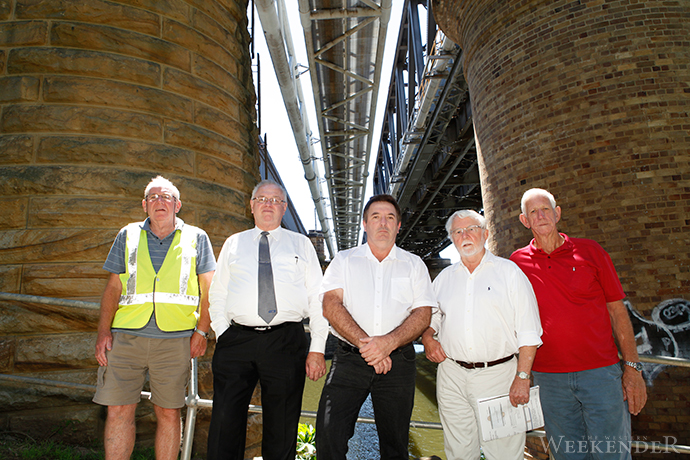 It was labelled the "do nothing" option by none other than the Roads and Maritime Services when the idea of a pedestrian crossing over the Nepean River was originally floated in 1991.

And despite ongoing complaints from local residents about design and location elements, the State Government is adamant that the Nepean River Green Bridge will go ahead as planned.
On June 29, 2012, Transport for NSW released an independent report by AECOM on six different locations for the pedestrian bridge.
Residents were given the two weeks over the school holiday period, from July 4 to 17, to comment on the location options and Transport for NSW confirmed to the Weekender that nine submissions were received.
Emu Plains resident, Michael Patterson, attended a workshop held by AECOM on the bridge locations in April 2011 and said that whilst options were presented to attendees, the bridge alignment appeared to be predetermined.
"They presented us with three options, but residents had to agree with their preferred option [of Punt Road and Old Ferry Road] because the others were absurd. They did not want to consider an alignment next to the bridge," he said.
Residents were then given four weeks to express their views about the Nepean River Green Bridge's design, however, after unrest about the impact on rowing along the Nepean River, Penrith City Council voted for a Ki Studio design that was never distributed to the public as an option. In April 2013, the RMS endorsed the Ki Studio design.
Emu Plains resident, Eileen Ross, said she does not like the current bridge design.
"I originally voted for the 'S' Bridge, and never had an opportunity to comment on the bridge that is being presented to us now," she said.
"If a pedestrian bridge has to be built is should be next to Victoria Bridge."
Penrith Councillor Jim Aitken said that he had "no confidence" in the RMS.
"I think it is something that residents have been bullied into," Cr Aitken said.
"I have received numerous complaints from people in Penrith about the Green Bridge and the lack of consultation."
Penrith MP Stuart Ayres has defended the consultation process.
"Any project of this scale that changes the landscape is going to elicit some emotive responses. This is a project that we have committed to and our intent is to deliver the bridge. We will continue to consult with the community on an outlined process that we have not deviated from," he said.
"There is not a lot of design flexibility there because if you want to provide a 175 metre wide span over the river… you have to have an engineering structure that can support that structure, which leaves us with very few options, if anything other than a truss [design like the Ki Studio option]."
Local architect Robin McKay says the Ki Studio design is not yet structurally sound.
"From its first being revealed, anybody with a modicum of engineering understanding agrees the twisting truss design could fall over unless redesigned as a heavier structure to span the minimum requirement of 170 metres," he said.
Councillor Kevin Crameri says that Penrith Council should not have endorsed the Ki Studio design bridge and should have chosen something simpler.
"I think that Council should reconsider their position. We voted for something 'iconic' but it takes away from the real icon, the Nepean River," he said.
Residents like Mr Patterson feel that an alignment next to Victoria Bridge was not properly explored and there was substantial misinformation about a gas pipeline exclusion zone.
Mr Ayres informed residents that a gas pipeline easement stops any construction in the area. In a letter to residents dated November 7, Mr Ayres says: "The Steering Committee has been advised of a gas main exclusion zone alongside Victoria Bridge that prohibits construction in this location".
However, validity of this claim has been questioned.
The company that owns the pipeline, Jemena, confirmed that a map obtained by the Weekender showing the pipeline underneath Victoria Bridge is correct.
"There are two gas mains – one under the river and another within the existing bridge," the Jemena spokesperson confirmed.
The pipeline under the river was installed in 2012. The gas pipeline is not named as a restriction in RMS documentation about the Green Bridge's alignment options.
"The clear recommendation from Jemena gas is that there is a 10-metre exclusion zone from the edge of the bridge where the pipeline is. That compromises the ability to provide an alongside bridge because that bridge would then have to be 10 metres away from the edge of the bridge," Mr Ayres said.
When asked whether that could still mean an alignment next to Victoria Bridge is possible, Mr Ayres said "no".
"It is almost impossible to connect it to the pathway network. We would then have to acquire a large parcel of land on the Log Cabin site."
Mr McKay disputes this claim.
"They say that a bridge cannot be built beside Victoria Bridge because there is a gas pipe in the way – that's wrong," he said.
"There are much better, simpler, short span options alongside the Victoria Bridge with walkways on both banks giving optional riverside experience routes."
Mr Ayres ruled out reviewing the location of the bridge.
"I'm not going to say to people that they can get a new alignment, we have made a decision on the alignment… It would be impossible for us to go back and consider another location," he said.
A report from 1991 compiled by the RMS (then RTA) suggests there is enough room beside the Victoria Bridge to build a duplication of the roadway, let alone a shared pedestrian footbridge.
It called the Green Bridge the "Do Nothing" option. The "Do Nothing" option included designs such as a pedestrian walkway cantilevered from the side of Victoria Bridge and separate pedestrian and cycling bridges.
The 'Duplication of Victoria Bridge over the Nepean River Environmental Impact Statement 1991' report instead found that, "The capacity of the [Victoria] Bridge does not meet peak demand with significant delays occurring in the peak periods".
"The levels in peak periods are above the design capacity of the road and forced flow conditions persist during commuter periods causing considerable delays. The road width is also below the standards generally applying to arterial roads."
The report never made it to public consultation and so commuters suffered another 22 years of traffic congestion.
"Victoria Bridge – four lanes and a decent walkway – how simple and how sensible does that sound? We need a bridge for everyone not just pedestrians and we need it now," says resident, Joy Davis.
"We need common sense to prevail and for all our town planners and politicians to think of the needs of the many rather than building a structure for the frivolity of the few."
Cr Aitken believes that as the Federal and State Governments have committed $70 million to build the Jane Street extension leading up to Victoria Bridge, the duplication should be reconsidered.
"With funding now available we should be looking at the possible duplication of the Bridge and its alignment with Jane Street to reduce the serious traffic congestion issues motorists face," he said.
Ms Davis agrees: "Stuart Ayres' correspondence informs me the pedestrian bridge will cost around $25 million (if it comes in on budget) and frankly I find it absurd that we would even consider spending those sorts of funds on a foot bridge for only a small section of the community when the entire community need a b
etter and safer vehicular crossing".
But Mr Ayres says combining the funding won't work.
"I think outside of some constrained peak periods and the weekend Victoria Bridge operates quite well," he said.
"I have used $250 million as a figure that has been quoted to me as a cost of an upgraded bridge over the span that we would require and then associated roadworks and some people have suggested to me that that's a light figure," he said.
Downstream, the State Government is planning to build a 160 metre long bridge at Windsor for a budget of $65 million.
"The point here is that I don't think Victoria Bridge is the appropriate location for an investment in future roadworks," Mr Ayres said.
"To invest a huge quantum of funds in a road bridge that doesn't service a growing population I think would be an unwise investment of funds and that's why I favour Russell Street as a second river crossing."
But the Russell Street option, connecting to Andrews Road in Cranebrook through the Penrith Lakes Scheme is dependent on the cooperation of the Penrith Lakes Development.
"First stage for us with relation to Penrith Lakes is getting the masterplan out to public exhibition. We are getting closer and closer to that, we are in the final drafting phase of that masterplan," he said.
He said there was no guarantee a Russell Street option would be in the masterplan.