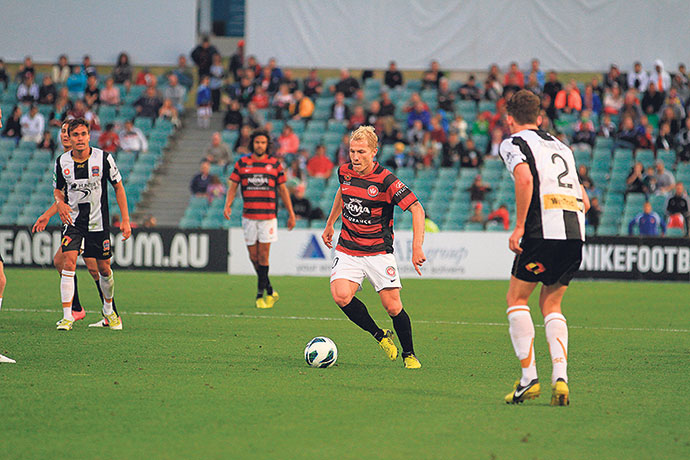 It doesn't happen often, but the Wanderers will enter a round of the Hyundai A-League looking to bounce back after a defeat.

It was going to take something special for an opposition to take maximum points against the Wanderers, and it took two candidates for goal of the season to clinch the three points for an impressive Brisbane Roar.
An uncharacteristically slow start led to the Wanderers conceding early and in fairness they struggled to recover. The Roar pressed the Wanderers and bullied them off the ball, showing real determination and obviously driven by their defeat last week against Newcastle.
The focus and determination Brisbane showed after defeat is exactly what the Wanderers must replicate in their upcoming match when they cross the Tasman to face the Wellington Phoenix.
On paper this looks promising for the Wanderers, given the fact the Phoenix have yet to win a game all season and there is currently an eleven-point gap between the two teams.
Even though the positives point to an easy day out, the first meeting between these two teams earlier in this season will have most Wanderers supporters expecting a strong Phoenix side with a point to prove.
Wellington gave the Wanderers a real scare at Pirtek Stadium, and after early periods of dominance the Wanderers faded away due to the Phoenix's high pressure tactics and continuously forced the home side into errors in their own half.
Phoenix equalised through Jeremy Brockie in the second half, and on the balance of play deserved their point in very intimidating surroundings.
The Phoenix will be back home in Wellington to meet the Wanderers for the second time, and can draw positives from their narrow loss last round against Sydney FC at Allianz Stadium. A goal a minute into added time by Kenny Cunningham looked to have earned Wellington a respectable point, until Ranko Despotovic broke their hearts and stole maximum points from a luckless Phoenix.
It was a match they probably should have won, and to walk away without even a point would be hard to swallow and they will surely come out firing this Sunday.
The Wanderers have been extremely unlucky this season with injuries, and star man Shinji Ono's injury against Brisbane is exactly what they didn't need at this time.
Wanderers coach Tony Popovic has rated the Japanese star a 50-50 chance for the away clash at Westpac Stadium, but insisted the injury was not serious.
Popovic also added that he did not expect the star man to return, and the Wanderers will need someone to fill the large hole that will be left in his absence.
That man could be Youssouf Hersi, who looks certain to return from injury, even narrowly missing the top of the table clash last round.
It will be a welcome boost for the Wanderers if he does play, as they have been lacking a spark on the flanks in recent matches.
Both sides will be looking to bounce back from defeats, and last week's narrow loss to Sydney FC will provide even more motivation for a Wellington side seeking their first win of the season.
With their first loss now on the board, some of the pressure is now off the Wanderers and they can go about their season with not as many eyes on them waiting for them to fall.
Those eyes may however stay on coach Popovic, as fans eagerly wait to see if Michael Beauchamp will be included in the side this Sunday.
Now that he's been left out for three games, questions are being asked.