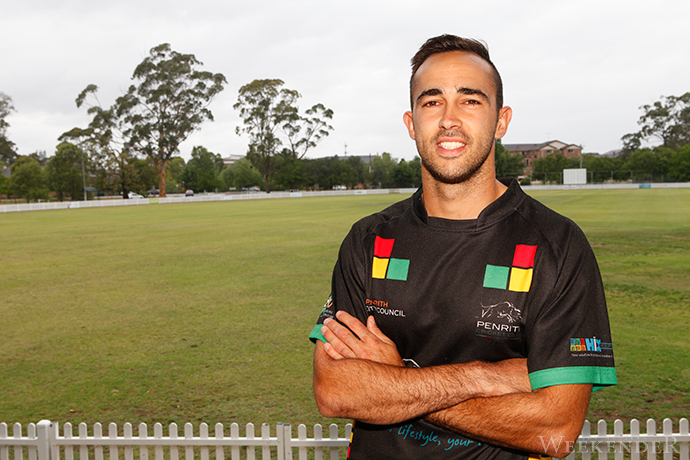 Penrith cricketer Josh Lalor experienced a moment he'll never forget last week after he shared the same pitch, the Sydney Cricket Ground of all places, with the English cricket team.

Playing in a Cricket Australia Invitational XI against the touring Poms, the 26-year-old local junior had the privilege of bowling and batting against some of the world's best cricketers in a three-day exhibition match.
Speaking with the Weekender, Lalor said it was a thrill to bowl to England's top order as well as play on the hallowed SCG turf.
"It was really good to have a run around with those guys, we had a pretty good outing with them but they knocked us off late in the last day," he said.
"When batting I got to face Graeme Swann, one of the best spinners in the world, so that was a highlight as well.
"I was fortunate enough to play India a couple of years ago in Canberra in a similar sort of fixture and I took a lot out of that game, so it was a fantastic opportunity to do that again against another international team."
It's been a remarkable cricket season so far for the Regentville local who is also enjoying some great success with the Penrith Cricket Club who are off to a 4-0 start in the Sydney Grade Competition.
"Our new coach Steve Small has been a breath of fresh air and I think a lot of guys are more settled now than they have been in the past," Lalor said.
"Personally, I've been hitting a lot more balls this season and have been trying to contribute with the bat as well as ball which helps our side too."
But it isn't just the great work Lalor's doing on the field that's getting recognised, he's also doing some great things off it in his role as Indigenous Programs Officer with Cricket NSW, where his task is to grow the participation rates amongst Indigenous cricketers.
"It's funny sometimes because the first thing Indigenous kids do is a pick up a footy and talk about Greg Inglis and Johnathan Thurston and you start to communicate to them that there's Indigenous guys playing cricket too who are naturally very good," Lalor said.
"Everyone says Indigenous people are naturally gifted athletes and you can see that with league or AFL but cricket is a bit more technical but they seem to pick that up as well which is exciting to see."
Up next for Lalor is another date with the English cricket team, this time in Alice Springs for a Chairman's XI exhibition match later this month.
"I've played some cricket in Alice Springs before in the Imparja Cup, it's a very picturesque place to play with the MacDonnell Ranges in the background, it's a lovely place to go," Lalor said.